Preston North End Football Club
Index and Current Season
Notes of a distant follower 2018/19 season
in the Sky Bet Championship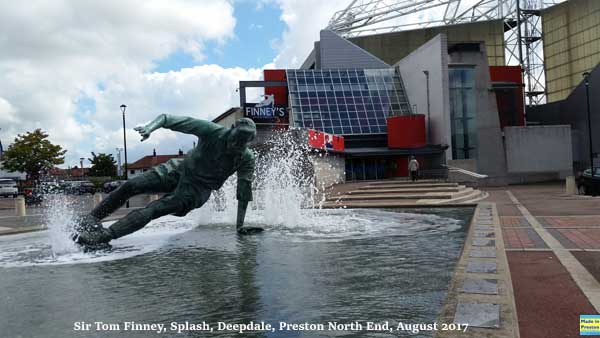 PNE's ground Deepdale, Bill Shankly Kop and Invincibles Stand from the ex-National Football Museum viewing point.
31st October 2018 Played 15, W3D5L7 F24 A29 Pts14 Position 20th
Three draws and 2 wins made for a better October. A disappointing home draw with Rotherham who are below PNE ended the month.
30th September 2018 Played 10, W1D2L7 F11 A21 Pts5 Position 24th
The only way is up. One draw and four defeats made for a poor September in the Championship. Drawing to Middlesbrough in the League Cup and losing on penalties wasn't good either.
Scoring 2 goals in each game but giving away 2 or 3 makes it look like the attack is doing alright but the defence is letting them down.
31st August 2018 Played 5, W1D1L3 F3A7 Pts4 Position 20th
Starting with a home win and the next home game a draw doesn't sound too bad, but 3 away defeats without scoring means home results count more. Playing Swansea and Stoke early might have been a good thing and Norwich are often a mixed bag so PNE could perhaps have got 5 points from those games. Sometimes it's good to start slowly but it could bring the jitters.
1st August 2018 Played 0
The season begins on 4th August 2018