Heritage Open Days in Preston 9th to 10th Sept 2017
The principle of Heritage Open Days is that buildings not normally open to the public are thrown open for a day over a period of 4 days. Preston's main activities are at weekend and the opening takes a lot of effort often by volunteers. There are 27 venues open in Preston. Let's see as many as possible.
Download the Preston 2017 Heritage Open Days brochure, click here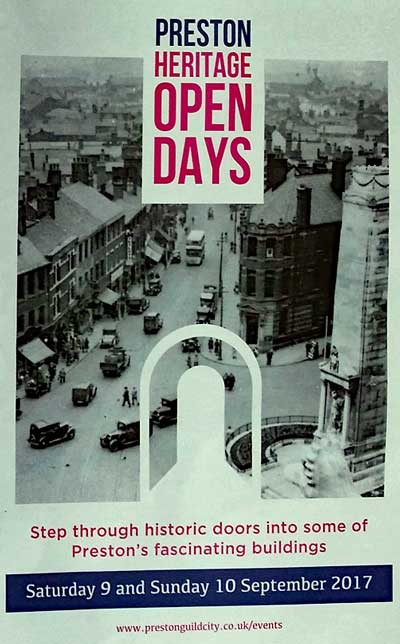 The scheme is run by English Heritage. Find details of Preston buildings and more on their website:
https://www.heritageopendays.org.uk/
There are 35 venues under the search 'Preston'. These include locations such as Bleasdale, Samlesbury, Bamber Bridge and Penwortham..
---
Heritage Open Days in Preston 10th to 11th Sept 2016
Download the brochure click here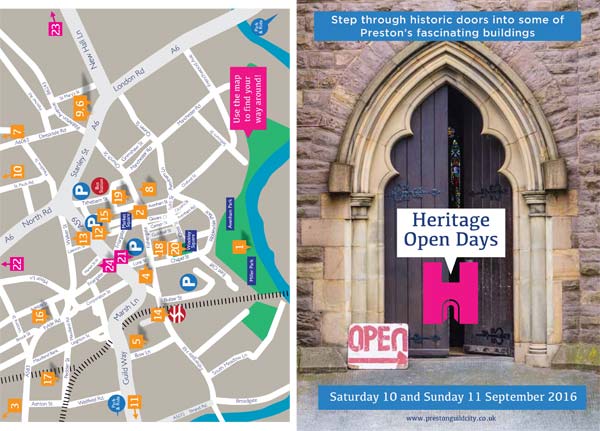 Preston Heritage Open Weekend is organised by Preston History
Network. This year's event is supported by a UCLan Community
Heritage grant, and a donation from Lancashire Family History and
Heraldry Society www.lfhhs.org.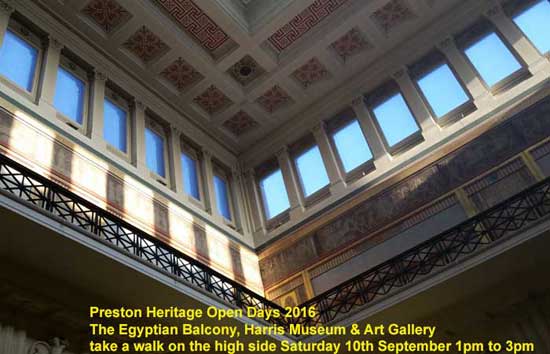 Twenty Four places, special tours, displays and information. Below are some found on the Historic England website.
Lancashire Conservation Studios,  Saturday 10th September, Tours 10.30am, 12.30pm, 2.30pm.
Harris Museum & Art Gallery,  Saturday 10th September, 10am to 5pm. Architectural Gem Tour 12noon.  Egyptian Balcony 1pm to 3pm.  Virtual Egyptian Balcony Tour 1pm and 2pm.
Haslam Park & Local Nature Reserve,  Saturday 10th, Sunday 11th walks at 11am and 2pm.
Hidden Art Nouveau, 1&2 Lune Street,  Saturday 10th September, 10am to 5pm.  Sunday 11th September 11am to 3pm.
Lancashire Archives,  Saturday 10th September,  10am to 4pm
Museum of Lancashire, Saturday 10th September tours at 11am, 12noon, 1.30pm, 2.30pm.
Preston Playhouse, Sunday 11th September, 10am to 4pm.
Winckley Square Gardens,  Saturday 10th September and Sunday 11th September, tours 11am, 1pm, 3pm.
Heritage Open Days in Preston 10th to 13th Sept 2015
A cloudy day but decent enough. Visited the Town Hall where we were enlightened about the civic regalia, procedures of council and the building of the Council Chamber as a job creation scheme in the depression, before visiting the Mayor's Parlour and told about its contents. Then off for a coffee in the Harris Museum before walking to St Peter's former church and on to St Walburge's Church. Lastly we went to Preston Minster where Preston Historical Society had set up stalls, a film of Preston gone and the members were dressed in period costume.
St Peter's is now used by the University of Central Lancashire as a fashion studio but it still has nice features and fine stained glass. St Walburge's is a landmark but inside it is very large, bright and ornate, a very fine building.
The Mayor of Preston, Margaret McManus, with the Sergeant, Bill in the Mayor's Parlour.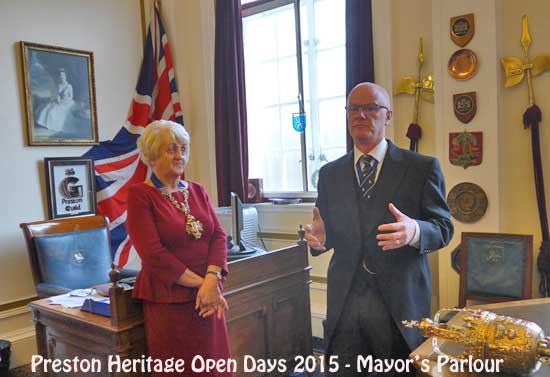 In Preston Council Chamber with the Civic Regalia.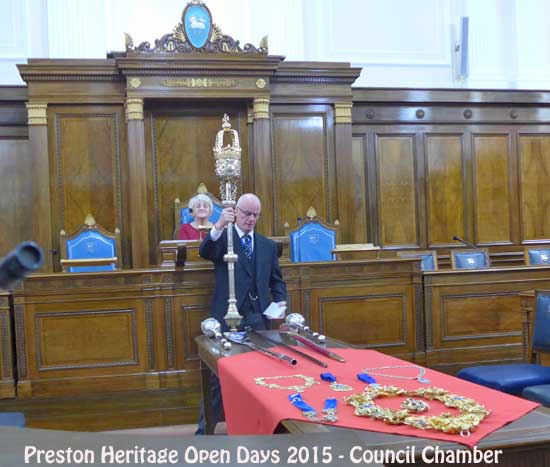 In Preston Minster, St John's, with the Preston Historical Society.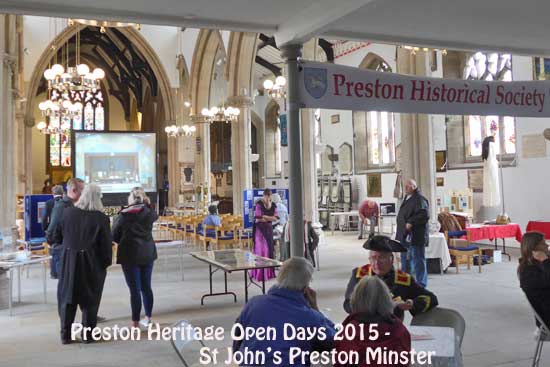 St Walburge's interior, Preston.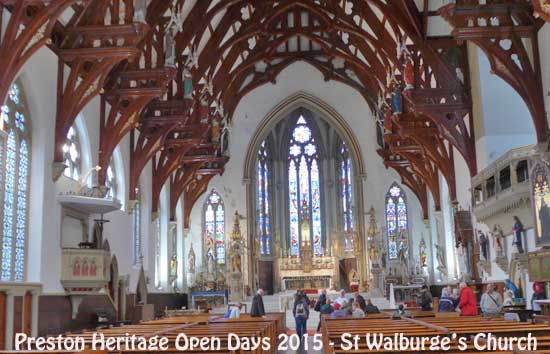 St Peter's stained glass window, Preston.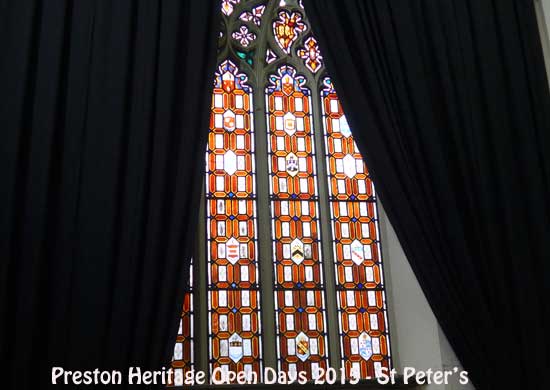 The full 2015 list is at http://www.heritageopendays.org.uk/directory/town/preston
Heritage Open Days in Preston 13th / 14th Sept 2014
Another fine day, visited The Dock Control Room, Lancashire Records Office, the tiled room on the corner of Lune Street on Saturday and the Museum Conservation Studio on Sunday.
The Dock Control Room included a talk which was interesting about the Dock and the channel to the sea. The Ribble Steam Railway needs the road closing whenever it crosses the swing bridge and there are 3 access points with arms that need lowering.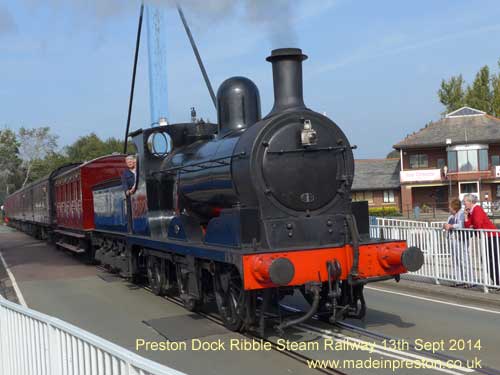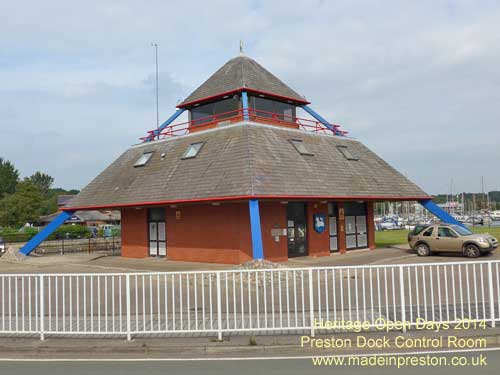 We walked into the centre of Preston via Bow Lane and the Lancashire Records Office, and visited the building on the corner of Lune Street that has kept its old interior. Then walked to the Flag Market.
Heritage Open Days in Preston 2013
12 places to visit 14th and 15th September 2013
1. Avenham and Miller Parks
2. Harris Museum and Art Gallery
3. Lancashire County Hall and Council Chamber
4. Lancashire Archives
5. Lancashire Infantry Museum
6. Minster Church of St John.
7. Museum of Lancashire
8. P.C. Carpets and Beds Hidden 'art nouveau'.
9. Preston Town Hall and Council Chamber.
10. St Peter's Chruch Art Centre
11. St Walburge's Church
12. Preston Playhouse.
Download the pdf booklet for full details.
A good collection of places that we normally walk by. On Saturday and Sunday 14th and 15th of September 2013 you can walk in and have a look.