The Harris Art Gallery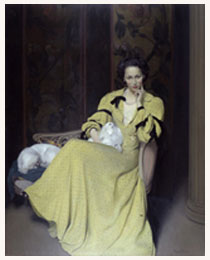 Preston's main art exhibition. It contains fine, modern and decorative art, costume and textiles, history and photography. There is some movement towards showing more modern and digital art.
It is free to enter and is open every day, please check the special exhibitions on the web-site.
A recent acquisition is the actual dress worn by the subject in Sir James Gunns painting - Pauline in the yellow dress. The dress looks better in the painting as it is worn loosely whereas the actual dress is buttoned. Interesting also the explanation of how the painting was obtained during the war at a cost of £1000 and newspaper cuttings from that time.
Read more on our Harris Museum and Art Gallery Page.
Preston Arts Association
Visit their website. Good range of links to local art organisations.
Lancashire Arts and Crafts Guild
Visit their website. Recently visited their touring exhibition in Lytham and there is some good work.
Support for Lancashire Art from Creative Lancashire a government funded group. Visit their website.