Covid-19 Preston
Spring 2020
The Covid-19 Pandemic of 2020 was a disaster the like of which hasn't been since World War 2. This was a worldwide threat but Europe and the Americas struggled the most. Asia was more prepared having experienced the SARS epidemic in 2003 and China implemented a very strong lockdown..
This corona virus illness particularly threatened the lives of those over 60 causing capacity issues in hospitals that prevented routine work being done.
To maintain hospital capacity and reduce the number of deaths the government closed non-essential businesses and schools in March 2020 which threatened the livelihoods of millions. To ease this the government made a furlough payment to those unable to work and businesses were allowed to defer payments and obtained grants. The closures also included restrictions on meeting others and travelling along with isolation for those with symptoms.
By the end of summer some 40,000 people had died of Covid-19 in the UK and 104 in Preston out of 1120 cases, 56 in South Ribble out of 490 cases. At this time testing was not as extensive as later in the year so the number of cases could be understated.
Summer and Autumn 2020
In summer the closure was eased when numbers went down. Cases began to slowly climb again in Autumn 2020 leading to the development of a number of tiered restrictions depending on how bad an area was.
The North West of England was particularly badly hit at this time with Greater Manchester and East Lancashire having especially high numbers of cases. This spread to Preston which had high numbers in November when the government called another but less severe English lockdown.
Easing the lockdown in early December it became apparent that London and the South East had an enormous rate of increase which was put down to a new strain with faster transmission. A new higher Tier 4 was introduced and rolled out just before Christmas. The planned easing of restrictions for Christmas was reduced to just Christmas Day.
In the period after Christmas the South of England was very badly hit and numbers began increasing all over the UK. School and University re-opening after Christmas was put back except for Primary schools.
In early December the UK approved the use of the BioNTech/Pfizer vaccine and on the 8th December the first person was inoculated. Very old, very vulnerable and frontline health and care workers were given top priority. At the end of December the Oxford/AstraZeneca vaccine was approved and the first Oxford inoculation happened to a dialysis patient at Oxford on the 4th January 2021.
By 2020 year end the totals to date were:
Preston cases 8854, 231 deaths.
South Ribble cases 4695, 135 deaths.
Reference: https://coronavirus.data.gov.uk/
Lancashire moves to Tier 4 at 00.01am Thursday 31st December 2020
Tier 4 isn't as restricting as the Spring 2020 lock down and people have found ways to lessen the impact, such as Click and Collect and cafe take aways.
2021 Vaccination
In early January 3 vaccines have been approved in the UK:
BioNTech/Pfizer
Oxford/AstraZeneca

Moderna
Stocks of the Pfizer and AstraZeneca vaccines are high, the Moderna vaccine will begin delivery in spring. The Pfizer vaccine needs storage at -70C which limits the locations where it can be given. Major hospitals began the programme but these are spreading to Primary Care Centres and Community Centres. Large hubs are being set up in cities. Pharmacies will begin to vaccinate soon.
Preston Area Covid-19 Vaccine Centres 14th January 2021
Location of Vaccine Centres:
Preston Hospital
Issa Medical Centre, St Gregory Road, Preston
Geoffrey Street Health Centre, Geoffrey Street, Preston
Penwortham Cricket Club,
Jubilee House, Leyland,
Ryan Medical Centre, Bamber Bridge,
Clayton Brook Clinic,
Buckshaw Village Surgery,
Chorley Hospital, Chorley.
Garstang Medical Practice,
Lytham Primary Care Centre
Number of Covid-19 Patients in Preston's Lancashire Teaching Hospital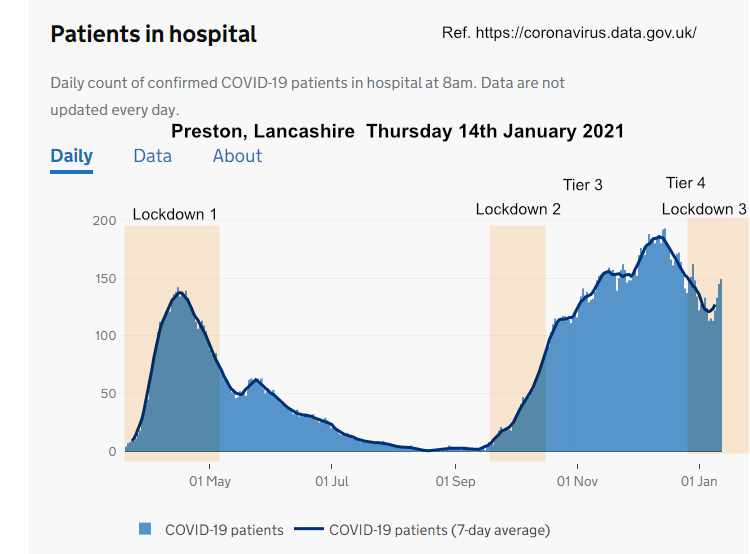 Local COVID alert level: Tier 4, Stay Home
To December 26th Preston had 294 cases which was 51 down on the previous week. There was a rolling average of 205. South Ribble 188 cases. The very latest information shows an uptick in most areas with a new strain increasing rapidly in the South of England.
The map below shows an improvement in the region from the map beneath it. The new strain has caused unprecedented numbers of UK cases reaching over 55,000 a day, requiring great caution.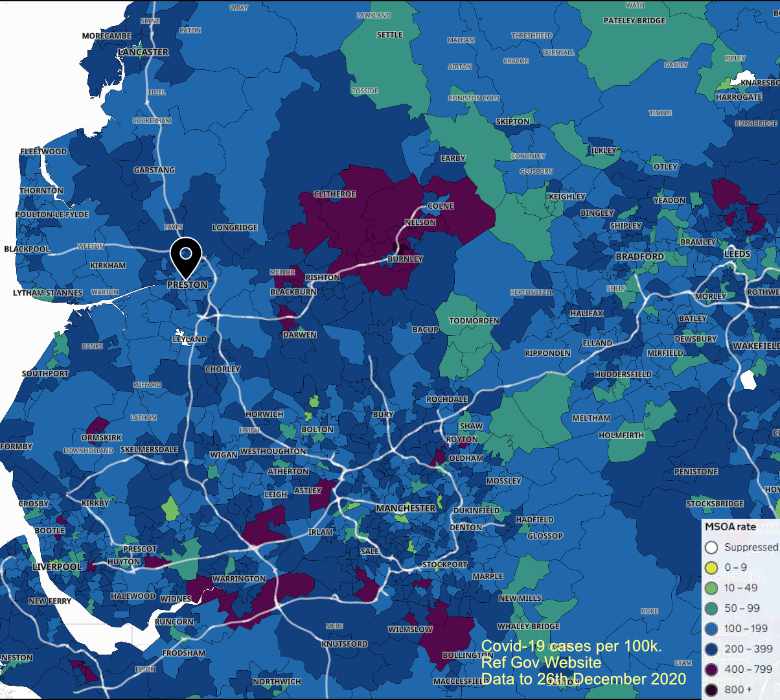 Lancashire moved to Tier 3 at 00.01am Saturday 17th October 2020.
Week 9th Oct to 15th Oct 372 in Preston, cases per 100k of population which is 532 cases this week, +56 on the week before. 3666 cases in total.
In South Ribble 310/100k, 343 this week, +78 since last week, 1628 in total.
Covid-19 Cases Map 14th October 2020
Preston lagged East Lancashire and Manchester in the second wave, Autumn 2020, but now has a significant level of cases. Currently classed as High Risk, Tier 2 at risk of Tier 3.
BBC News report from Preston 14th October 2020: