Cuerden Valley Park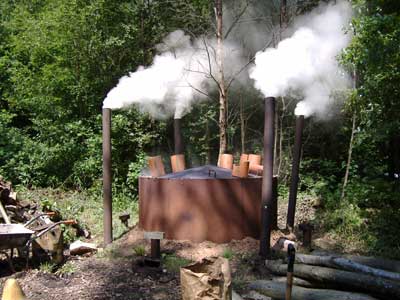 Photo: making charcoal in Cuerden Park
The Cuerden Valley Park is a pleasing open area of pathways and woodlands close to Junction 29 of the M6. Full details can be found on the following website address:
http://www.cuerdenvalleypark.org.uk/
The park contains a visitor centre shared by the Cuerden Valley Park Trust and the Lancashire, Manchester & North Merseyside Wildlife Trust. This is called the Barn.
More can be found about the The Lancashire Wildlife Trust on its website: http://www.lancswt.org.uk/
Many years ago Cuerden Park was well known for motor-cycle scrambling and I recall many Sundays in the early 1960's as a spectator, and in particular the smell of the racing fuel used by the bikes.