RIBBLE MOTOR SERVICES
Roof: Up to 1928 Light Grey,

then up to 1933 White then red.

Red and Ivory
Gold Lettering
September 2019

RIBBLE MOTORS 100th ANNIVERSARY
The Story of Ribble Motor Services of Frenchwood, Preston.
Ribble Motor Services of Preston became the largest bus operator in the North West of England and one of the largest in the country.The red buses operated most services from Carlisle to south Lancashire.
The company began in 1919 and the name ended in 1988 when it was absorbed into the Stagecoach Group. Prior to that around 80 smaller companies had been swallowed by Ribble, these include Scout and Standerwick. Both Scout and Standerwick had pinned themselves to the Blackpool trade and were never on an equal footing with Ribble.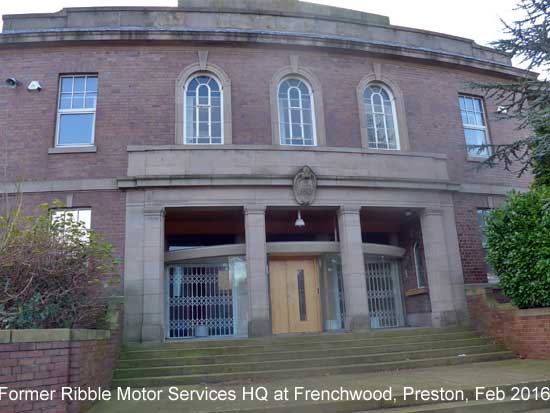 The company headquarters were in Frenchwood, Preston and the main Preston bus station was in Tithebarn Street, Preston, buses would be parked 3 deep and it was never certain where your bus was. An express bus station was built across the road approximately where the new bus station is.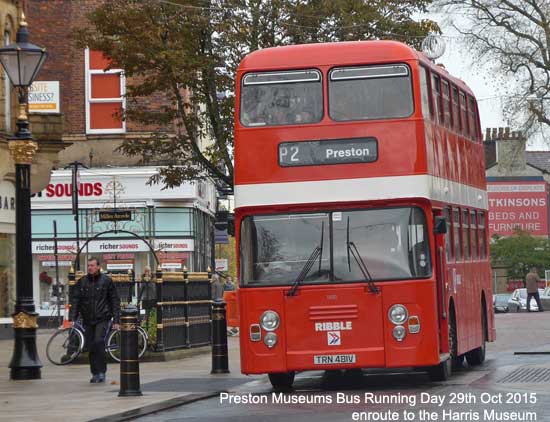 The company's origin was from Motor Omnibus Proprietors, a bus service owned by Mr J.Hodson in 1910 that operated from Gregson Lane, near Bamber Bridge. In 1919 Ribble Motors was formed as a company to take over the route from Gregson Lane with a base there comprising 2 wooden barns and a stone workshop. An office was opened in Birley Street then moved to Lancaster Road. The garage was moved to Park Road in 1919, then to Frenchwood in 1927 with a body shop in Selbourne Street in 1928. In 1929 the HQ was transferred to Frenchwood.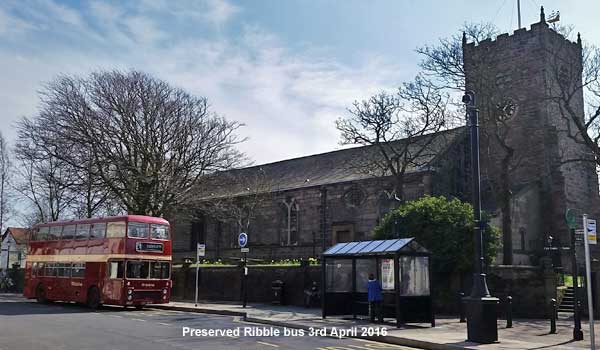 In 1920 British Automobile Traction Co Ltd (BAT) took a substantial share in the company. In 1923 the company became public. After a series of take-overs in 1927 Ribble took over Lancashire & Westmorland Motor Services which had 50 vehicles and a large and new area in the north. In the late 20's a battle for routes occurred in Liverpool and various arrangements were made until Ribble started joint services with Liverpool Corporation in 1933. Also in this period BAT had joined with a company called Tilling to form Tilling and BAT.
Following the Railways (Road Transport) Act of 1928 the LMS was able to take a large share of Ribble. By 1930 Ribble operated as far north as Carlisle. In 1928 the X60 Blackpool Manchester route was started with joint operations with other bus companies. Also joint operations to Glasgow and Edinburgh and Newcastle. In 1942 Tilling / BAT divided and the British Electric Company became the 2nd largest shareholder. The late 40's was the peak time for bus services. Further acquisitions took place until Ribble ran almost all the services in the area, except corporation. In 1967 BBMS was taken over and in 1968 Scout buses already owned by Ribble were converted into the Ribble livery. In 1969 the National Bus Company was formed and former Tilling services in Carlisle were transferred to Ribble.
The bus fleet grew from 5 buses in 1919 to 18 in 1921, by 1930 556 buses, peaking at 1179 by 1950, 1105 in 1969.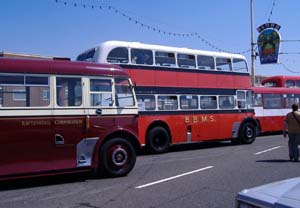 In Preston Corporation buses picked up from around the Harris Library and Miller Arcade. Fishwick used a bus station in Fox Street and Scout operated from Starch-house Square. Bamber Bridge Motor Services (BBMS) operated from an end slot at Tithebarn Street, their buses always looked a bit special, great colour scheme, Bristol buses I think.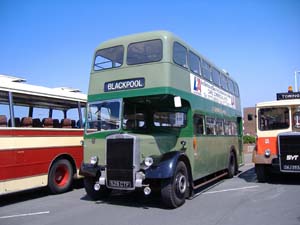 Most of the Ribble fleet were Leyland buses. Convenient really, being only a few miles away. In simple terms there appears to be an incredible range of buses; they were mainly double decked, some had long seats which enabled the gangway to be lower making the bus lower to get under low bridges, these were a favourite for children, although I don't know why. Some had doors at the back, others doors at the front. Some had engine at the back, some had engine at the front. Engine at the back, meant door at the front, but engine at the front could have doors anywhere, including one upstains. As far as I know Ribble didn't have central door buses, Blackpool had these.
The Gay Hostess route, X1 from Preston to London, was set up in the late 60's to exploit the motorways. Preston being fortunate to be the first town in the country to have a motorway by-pass in 1957 that had later been extended into the M6. These cream double deckers had a gay hostess on-board to serve refreshments, they also had toilets and used the new Atlanteans. A bus dream.
Ribble Vehicle Preservation Group - Vintage Bus & Coach Show 31st August 2014, Lytham Hall
A nice day for a visit to Lytham Hall, a Grade 1 listed building set in fields on the outskirts of Lytham, formerly the home of local landowners, the Clifton family.
The Ribble Vehicle Preservation Group brought a wide range of vehicles including a Fishwick and 2 Lytham Corporation buses.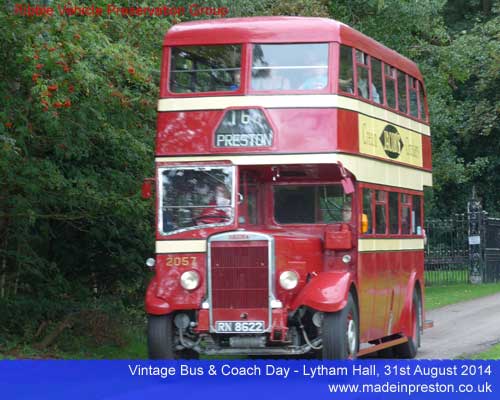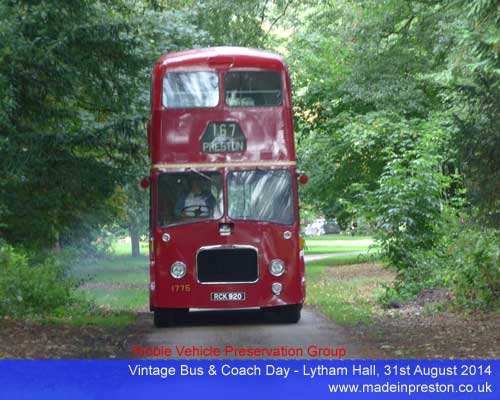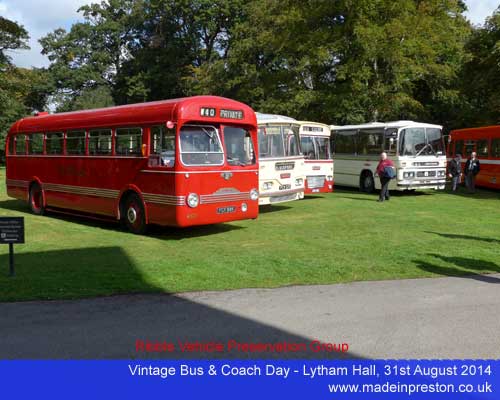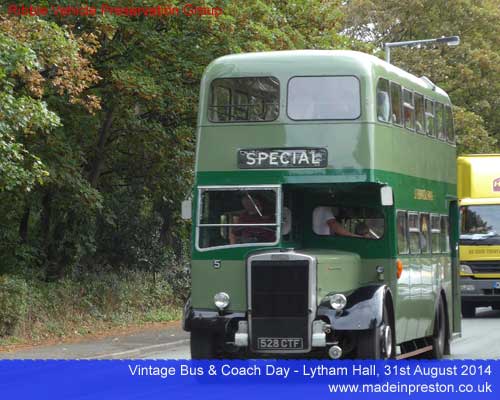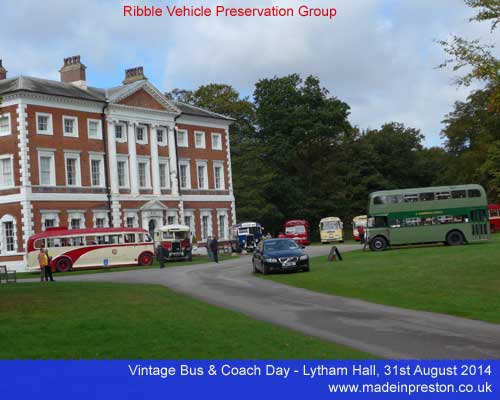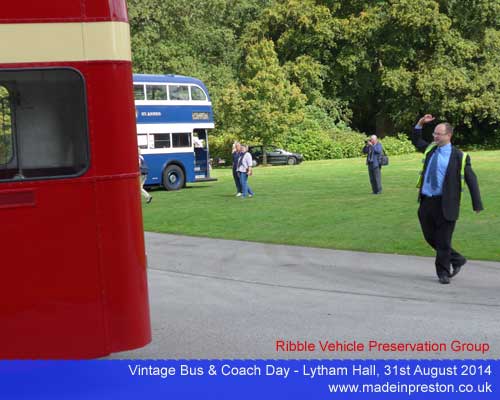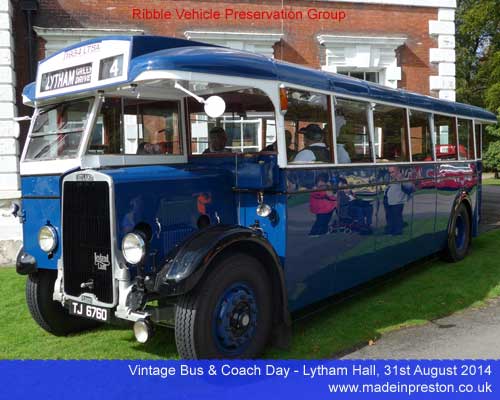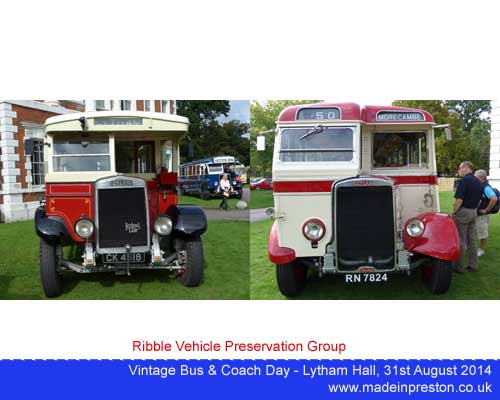 Ribble Motors Day - British Commercial Vehicle Museum, Leyland. 30th July 2011, 10am to 4.30pm.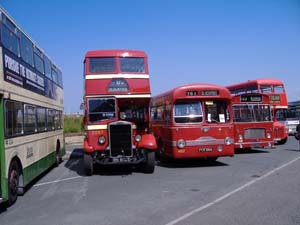 RIBBLE BUSES AT BLACKPOOL TOTALLY TRANSPORT ON THE PROM IN JUNE 2005
A 1939 Leyland Titan on the left. Isn't that lovely?
I found 2 good books, which I guess aficianados will already be aware of:
- Glory Days Ribble by Roger Davies. Ian Allen Publications. 2005. ISBN 0 7110 3038 3.
- 52 years of Ribble by T.B. Collinge, As recorded by the Ribble Enthusiasts Club.
The first book is easily read with plenty of maps and photos on glossy paper. I particularly liked the photo of the Littlewoods day out which had 360 coaches lined up to take the staff on the day out from Liverpool to Blackpool in 1951. The 2 photos show a row of Ribble Leyland Royal Tigers, must have been quite a sight. Imagine if they went down the A59 passing the docks in Preston and on to Blackpool, what a convoy! What a day out!
There is also a colour photo of the bus station at Tithebarn Street with the old mill on the north side. There are 9 bus rear ends and none exactly the same.
The 52 years of Ribble was obviously written a long time ago. A detailed account of the company, lists of buses with registration numbers and company numbers. Maps of routes.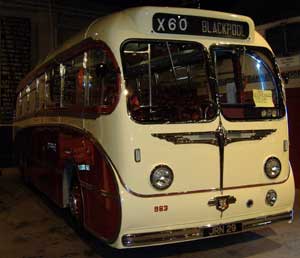 Leyland Tiger Cub at the British Commercial Vehicle Museum, Leyland. Great styling. We all have our favourites.
Other great Ribble Motor Services links are;