Read about Preston and its surrounding area on this website.

Great things have been made in the area and some still are: most of the RAF's current fighter aircraft, such as Eurofighter Typhoon, and Leyland Trucks.
Previously buses like the Leyland Atlantean and its predecessors, Atkinsons Vehicles, the Deltic prototype locomotive, 1000's of trams and large electric motors, miles of cotton woven and rayon fabric.
Photo: these Blackpool trams were made in Preston, on Heritage Tram duty Easter 2013.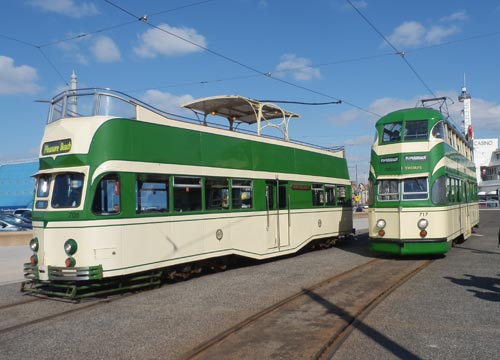 Manufacture of printing presses was a sophisticated and big industry from 1860 to 2006. Many smaller manufacturers made machinery for the cotton mills and hand tools. Wireworking such as fencing, sheeting and ornaments was significant.
Companies such as Horrocks, Dick Kerr's(English Electric), Joseph Foster(Goss), Leyland Motors, Leyland Rubber(BTR), Leyland Paints were well known nationally in their time. Slingers and Starkies were well known locally.
Inventions from Preston like the Arkwright water frame spinning machine that transformed cotton manufacturing and made a big contribution to the machine age.
Heritage for sale for a pittance
Disappointing that Preston Council is selling an element of its inheritance for a pittance. Preston had its own vehicle registration suffix numbers CK and RN until the new numbering system came out. These are part of the development and history of Preston.  For what is a relatively small amount the council is going to sell the 80 year old car registration plate CCK1 to someone with some cash. Are things worse now than they've been for 80 years. It seems strange that we've been through war, oil blockades, mass strikes, several recessions and never had to sell them or go as far as the council wants to now.

Preston Bus Station in the news. The brutalist building was Grade II listed in September 2013. Sun rising on a cold winters day in January 2013.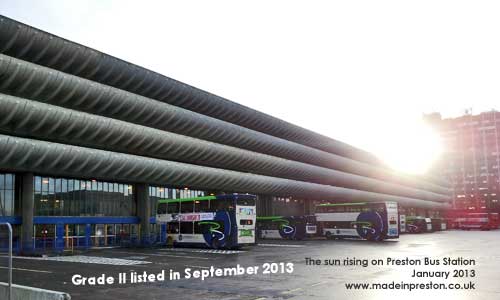 Diary of things we like in and around Preston 2013 and 2014
Ribble Steam Railway running on the dock
British Commercial Vehicle Museum, Leyland, weekend and some holidays
Museum of Lancashire, Stanley Street. I have the photos but not the page yet.
Ribble Vehicle Preservation Trust recently ran a free service between the 4 museums in Preston..
Latest Pages and photos below, not in date order:
One of those days when writing about the 1950's from memory seemed the thing to do. On the 3rd History page. 29th Nov.
Visit to St Helens, North West Museum of Road Transport 27th Oct, some Preston exhibits.
Visit to Lancashire Cheesemakers Dewlay on the blog 25th Oct.
Friends of the Harris Museum and Art Gallery blog. Our write up of the Masterstrokes exhibition dated 21st October
Preston Bus Station Listed - 29th Sept
Quite a few aircraft made in Preston, RAF Museum, Cosford added 21st Sept and the RAF Museum, Hendon added 10th Oct.
Great Eccleston Agricultural Show 2013, nice trucks
Blackpool Totally Transport event classic buses, coaches and cars. June 2013
Visit to Bolton Museum and Hall in t'Wood, cotton in Bolton 2nd July 2013
Bridges Transport Ltd - those old familiar trucks - 29th April 2013.
Monthly PNE status since 2005, click here. Updated Sept 2013.
Preston Guild - I was there. New Page Saturday 1st September 2012 Trade Procession and Thursday 6th Sept.
Sometimes things appeal to your sense of humour. So well done to:
https://www.facebook.com/MattWadeBananaKing
of Preston indoor market. Note this is shown only because it's amusing. There is nothing on this website that is paid for.

My Great Aunt hard at work in the Motor Taxation office, Preston, in 1927: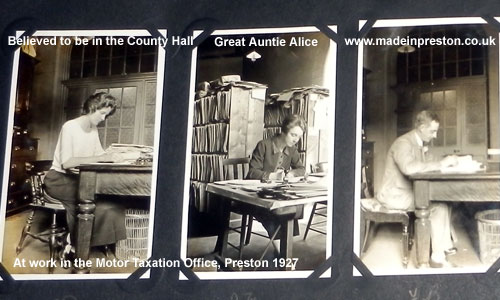 Avenham Park on a sunny 15th October 2013. Nice walk before a very interesting guided tour of Masterstrokes at the Harris Art Gallery.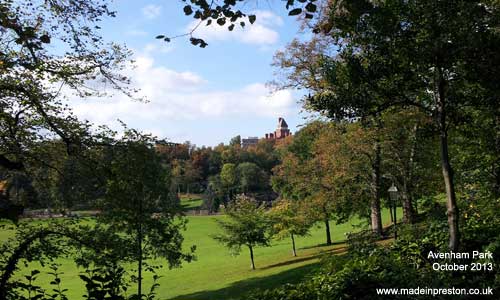 The Lancashire Rosettes entertaining in the iconic Harris Museum 28th August 2013. Nice sound, the acoustics are good as well.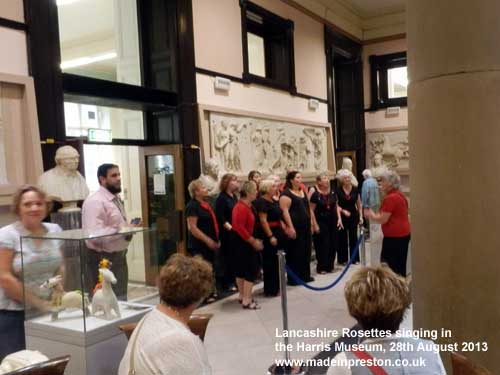 A pigeon in flight by Preston Cenotaph. Newly cleaned in August 2013.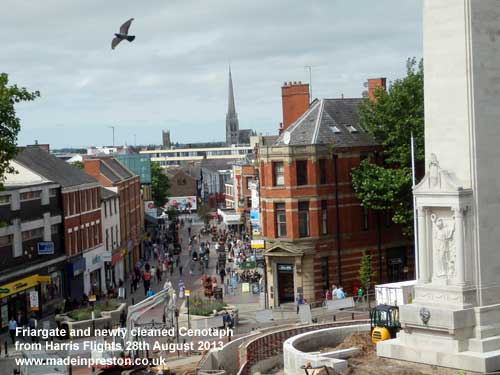 This Pickfords Heavy lifter was made in Preston in 1964 and recently restored, well done. Atkinson's Vehicles. On display at Fleetwood Tram Sunday 2013.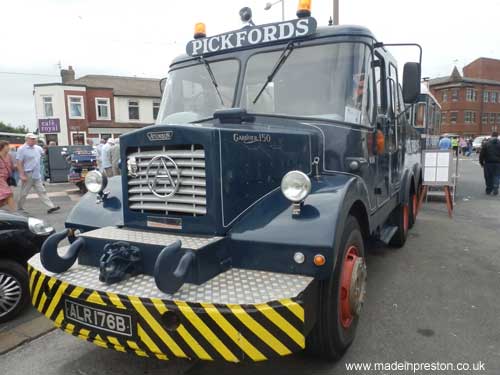 J Wareing of Wrea Green have a great collection of old trucks on display at the Great Eccleston Agricultural Show 2013.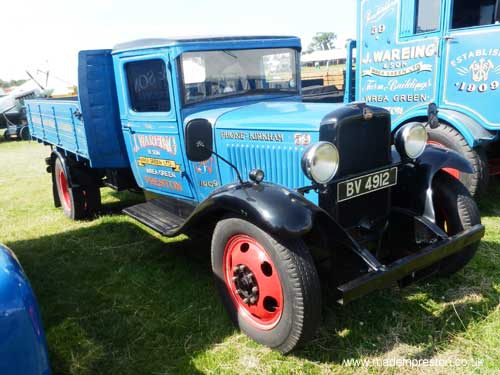 Great Past - Big Questions on the future
Around the early 19th Century entrepreneurial industrial activity grew extra-ordinarily. Preston developed a wide industrial base of cotton, light engineering and modern engineering in electrical motors and aircraft. In those days British was usually best and very competitive, and the Empire was a tied market and provided resources.
This largely held its own up the 1950s. Then a new post war order opened world trade and old methods and attitudes competed openly with new methods and new attitudes overseas and caused decline. This accelerated until competitive manufacturing was only possible in protected and advanced technology such as defence and niche markets. Call centres, services and shops took over as the main employers and Britain's income came from North Sea Oil, Financial Services, advanced technology and pharmaceuticals.
It was a double whammy as both the home market and markets overseas no longer wanted or could afford most of our engineered goods.
We now have a question about where we are heading and how the mass of the population will be employed.
Post Empire, post industrial, we are moving to uncharted land. Nothing is guaranteed, nothing is owed, the world is changing. It seems job creators need a big helping hand.
One expectation is that as Asia becomes more wealthy we will take back manufacturing jobs, although it is likely that resource competition won't be comfortable. The days of cheap goods may be short. Just as cheap fuel is disappearing.
Modern society has big expectations and nearly all of them reduce competitiveness. We want more healthcare, welfare, big pensions, early retirement and school until 20. The workers are getting fewer and supporting more non-workers and services, something may have to give.
Over the horizon may be a technological breakthrough or a transformation of society but we shouldn't count on it. Hard work and positive attitude are always helpful. Although not new the words of Bob Dylan are still valid: 'get out of the new world if you can't lend a hand for the times they are a changing'.
Photo of Miller Park - Preston Guild 2012 Vintage Weekend: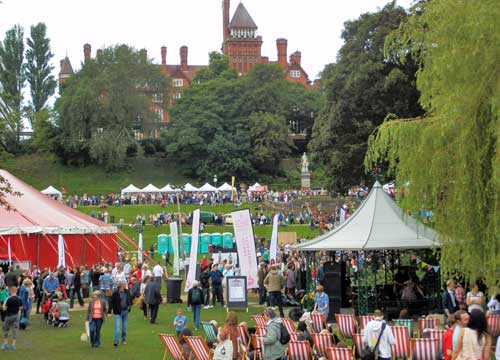 The website is great, have you read the Made in Preston blog. Usually updated at least twice a month. Our other blog The North Westerly contains 'off topic' topics usually a bit tongue in cheek.
If You Wish to Visit Preston, what to see, if you're a bit older, largely based on things liked by the writer. We don't do nightlife.
Harris Museum & Art Gallery for art and culture. Plus the Flag Market Square, Cenotaph and Town Hall buildings. Don't miss Miller Arcade.
Guild Hall & Charter Theatre for theatre, music and comedy and good Tourist Information shop.
Bus Station, under threat, for 20th Century outsized brutalism.
Look at the Victorian Covered Market roof.
Fishergate, Friargate, St Georges and Fishergate Malls, Miller Arcade for shopping.
Winckley Square area for Georgian sunken square. Winckley Street and Winckleys Cafe.
Miller and Avenham Parks and the River bridges.
St John's Minster and look at Arkwright House
Look at St Walburgs steeple.
Railway Station.
Museum of Lancashire
Deepdale for Preston North End football.
Deepdale Retail Centre - not so big.
Ribble Steam Railway, museum and workshop plus running steam train.
Wander round the docks, see the Bull Nose and view nearby car park..
Fulwood Barracks Queens Lancashire Regiment Museum.
Outside:
South: Leyland - British Commercial Vehicle Museum.
East: Brockholes Lancashire Wildlife Trust Centre and Reserve.
Samlesbury Hall.
Hoghton Towers.
Ribchester.
North: Garstang main street and Millenium Walk and beyond, plus the Garstang Deli.

Barton Grange Garden Centre, quality.
Lancaster Canal and Guys Hamlet & Eating Establishment.
West: Lytham main street, heritage centre and walk on promenade.
Fairhaven Lake, RSPB centre, Ribble estuary, and walk to Lytham.
South West: Martin Mere Wildfowl and Wetlands Trust Reserve.
Design Flair:
These companies showed flair for exceptional design - the streamline tram, the rear engined Atlantean bus, the Canberra bomber that flew like a fighter and wowed the USAF in 1949. Thousands of apprentices and designers educated at the Harris Technical College, now the University of Central Lancashire.
Tornado F3 Air Defence Variant at the RAF Museum Hendon. The lengthened UK version carries more fuel, more powerful engines, 4 medium range air to air missiles and air intercept radar, high technology, all developed by British manufacturers and delivered from Warton: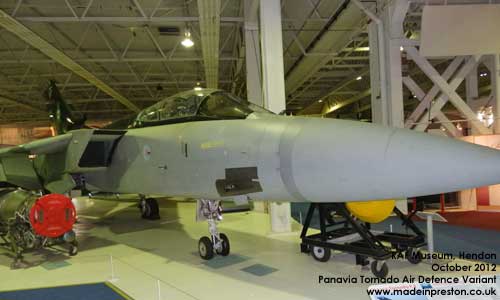 History:
There is an interesting history with human evidence from 12,000BC, Bronze Age, Roman, Viking, Norman, plague, battles with Scots and Civil War, leading to the forefront of the industrial revolution. Continuous celebration of the Guild Merchant every 20 years inspiring the saying for a rare event: 'as often as Preston Guild'. Read about the 2012 Preston Guild starting lower down the page. See our Harris Museum page and the Discover Preston gallery.
Politics:
2013. Preston Council are planning significant controversial changes to the face of Preston in the name of cuts. Lancashire Council are planning improved road and rail routes. Work is proceeding on electrifying the rail between Manchester and Blackpool, but completion is a few years away. New Enterprise Zones are being established in the area.
Photo of the elegant art deco style Lancastria Building condemned by Preston Council in December 2012: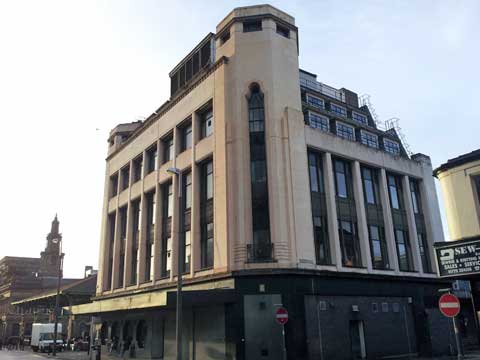 Preston Bus Station on Preston Council's list for demolition if an investor can't be found. They are encouraged by Lancashire County Council who want to build a smaller bus station and ground level car park: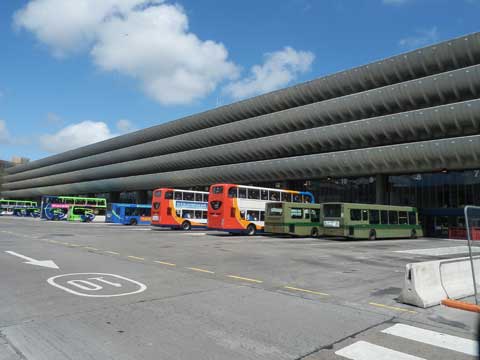 At least two postings in our blog about Preston Council's plans, read the blog.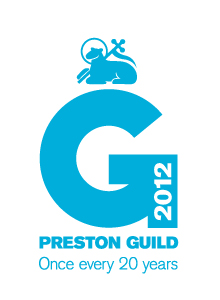 Preston Guild 2012
2012 was the year of Preston Guild. Let's not forget the Olympics, Para-Olympics, Queens Jubilee. An English Premier League club won the European Champions Cup, British cyclist won the Tour de France and a British tennis player won a grand slam.
An excellent YouTube video preview of the Vintage Guild Weekend that was held on the 1st and 2nd September on Preston's Avenham Park and Winckley Square:
Click here for Vintage Guild Weekend website
The Vintage Weekend Art and Craft and Food look interesting but maybe you prefer the music, fashion, film, market. Food on Winckley Square.
Preston Guild have adopted the term 'made in Preston' for 9 projects they are doing. One of these relates to recollections of English Electric and Leyland Motors. In the main they're tending to be more art related 'made in' products. Please note, and I think they'll want you to, the projects have nothing to do with this website. Read about it on the Guild website.
Recent Books:
Another new book by Keith Johnson Lancashire Evening Post history writer. 'Preston Through Time' - Click here.
A new book: Leyland Then and Now by David Hunt and William Waring.
Neat recent website of old Beerhouses in Preston, click here.
Book Preston Remembered by Keith Johnson Click here.
www.madeinpreston.co.uk - since 2002.
Our Made in Preston blog is fully moderated and tends to stray off topic.

Made in Preston: Deltic Prototype. At the Ribble Steam Railway for the 2012 Preston Guild and now in 2013. On loan from the excellent and wonderful National Railway Museum.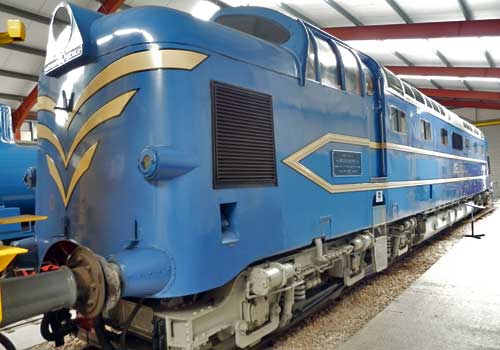 Over 99% of the photos and text on this site are owned by the writer. There is no official registration system for copyright. It's an automatic right in the UK for original work. Good manners usually go a long way when using other peoples work.
Music
26th October 1962 - Beatles play at the Public Hall
13th September 1963 - Beatles play at the Public Hall
23rd November 1971 - Led Zeppelin play at the Public Hall
1989 Preston Public Hall knocked down leaving the front which is now the Corn Exchange pub.
What would you hear at a Beatles concert in September 1963.
Please Please Me - Jan-63 - UK 
From Me To You - Apr-63 
Twist And Shout E.P. - Jul-63 
She Loves You - Aug-63 

Beatles, Please Please Me.
With the Beatles - Dec 63
Read more on the Music in Preston page
It's hidden here because it's a bit shy being an embryonic page.
Our Two Blogs
Made In Preston - the blog writing about Preston twice a month or so.
The North Westerly writing about anything once a month or so.
Touring Out of Preston to transport related museums and other wonders, many containing Made in Preston objects.
Coventry Transport Museum and Cathedral - June 2013
York, National Railway Museum - July 2013 and other visits
RAF Museum, Cosford - June 2011
RAF Museum, Hendon - October 2012
Crich National Tramway Museum and Village - Oct 2008