Read about Preston and its surrounding area on this website.

Great things have been made in the area and some still are: most of the RAF's current fighter aircraft, such as Eurofighter Typhoon, and Leyland Trucks.
Previously buses like the Leyland Atlantean and its predecessors, Atkinsons Vehicles, the Deltic prototype locomotive, 1000's of trams and large electric motors, miles of cotton woven and rayon fabric.
Photo: these Blackpool trams were made in Preston by English Electric Ltd. On Heritage Tram duty Easter 2013. They were there again Easter 2014 when the theme was 'English Electric at Easter'. This marks 80 years since the trams were built in Preston and delivered to Blackpool. Known as 'Streamliners' the design was innovative and the form still regarded as iconic.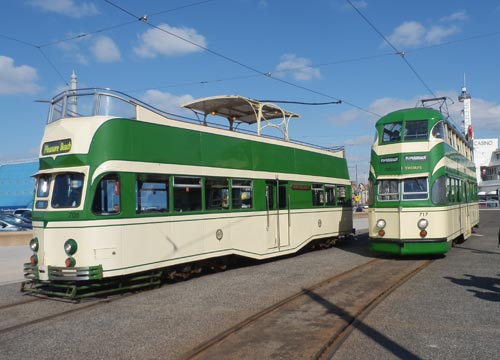 Manufacture of printing presses was a sophisticated and big industry from 1860 to 2006. Many smaller manufacturers made machinery for the cotton mills and hand tools. Wireworking such as fencing, sheeting and ornaments was significant.
Companies such as Horrocks, Dick Kerr's(English Electric), Joseph Foster(Goss), Leyland Motors, Leyland Rubber(BTR), Leyland Paints were well known nationally in their time. Slingers and Starkies were well known locally.
Inventions from Preston like the Arkwright water frame spinning machine that transformed cotton manufacturing and made a big contribution to the machine age.
---
Harris Museum & Art Gallery Conservation Day 11th Oct 2014
Watching curators and conservators at work in the Harris. Cataloguing Beattie's paintings of the area. The 2 paintings being catalogued during my visit were a painting of the barque Sirene wrecked and beached next to North Pier at Blackpool and the old Preston Town Hall prior to 1762.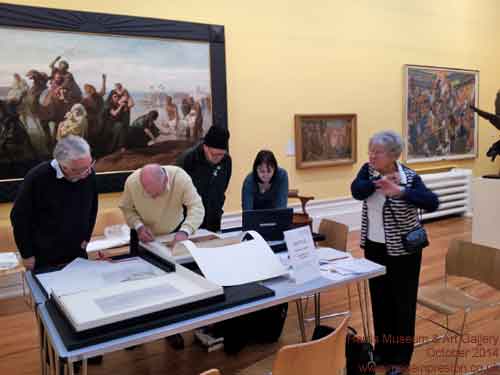 Another area of interest was cleaning coins. A new coin display is being set up, one will have coins from Preston's Banking history and another will be the Rossall Hoard found near Fleetwood.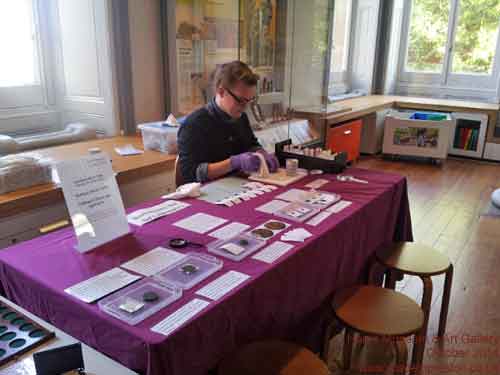 Several other displays were presented, the curator of Discovering Preston was cleaning a ceremonial wheelbarrow used during the digging of the first turf for the railway in Preston. Shoes and dresses were being catalogued and stored properly. Cleaning of bronzes by a conservator was also demonstrated. Photos from these are on our Facebook page and Harris page..
Heritage Open Days in Preston 13th / 14th Sept 2014
Another fine day, visited The Dock Control Room, Lancashire Reords Office, the tiled room on the corner of Lune Street on Saturday and the Museum Conservation Studio on Sunday.
The Dock Control Room included a talk which was interesting about the Dock and the channel to the sea. The Ribble Steam Railway needs the road closing whenever it crosses the swing bridge and there are 3 access points with arms that need lowering.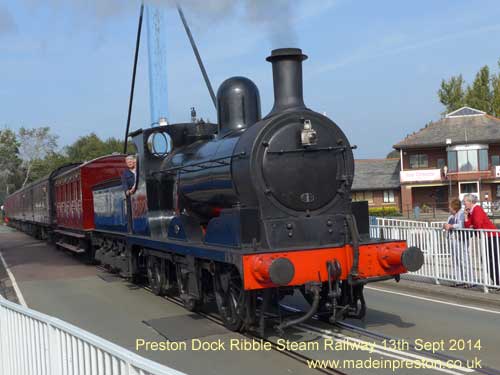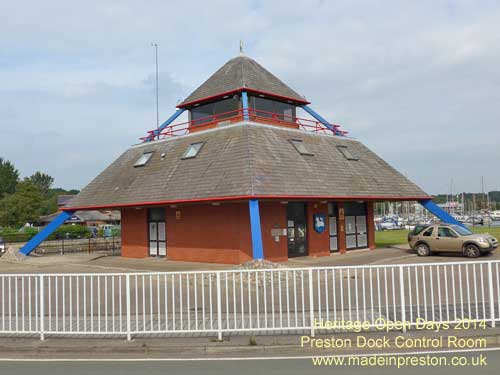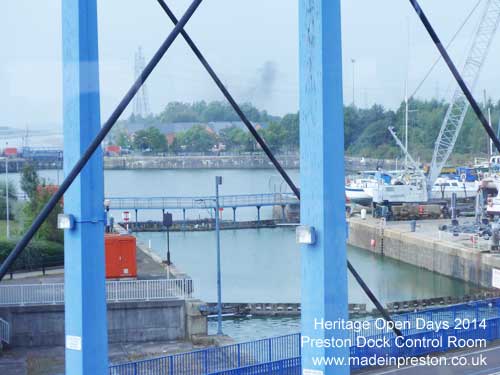 We walked into the centre of Preston via Bow Lane and the Lancashire Records Office, and visited the building on the corner of Lune Street that has kept its old interior. Then walked to the Flag Market.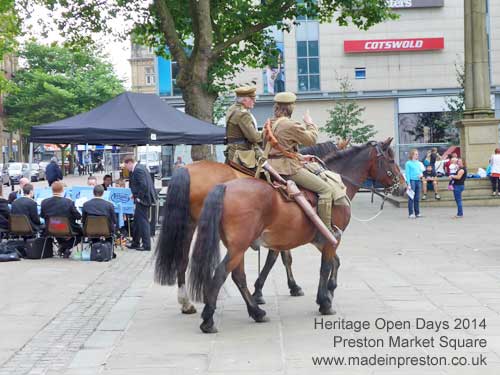 There was a Heritage Open Day walk round Avenham and Miller Parks but we just had a coffee in the Pavilion and walked back to the Docks, having lost energy.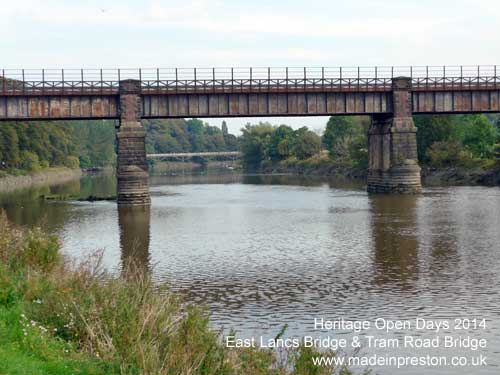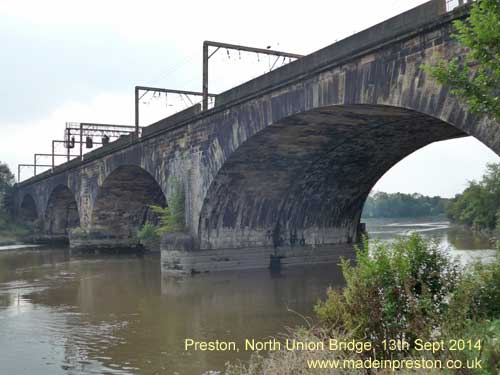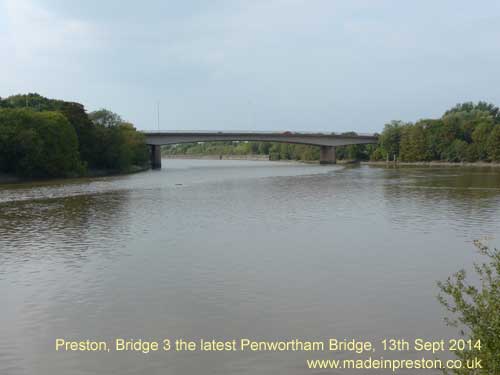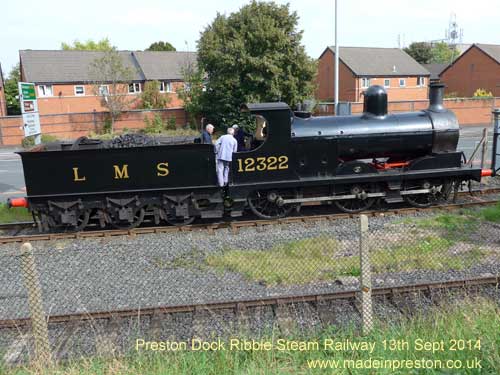 On Sunday the Conservation Studio for Lancashire Musems was open. We were given a very interesting talk by several of the conservators. There are 6 types of conservation: paintings, textiles, stonework, biological, so I've forgotten 2. They work for museums all over the country as well as private conservation.
A day at the Harris Museum 30th August 2014
Saturday 30th August was Vintage Day with a walk on the Egyptian Balcony, a talk on the jewellery and Horrocks dress collection and Vintage Fair with local stalls and clothing designer / manufacturers.
The jewellery collection talk: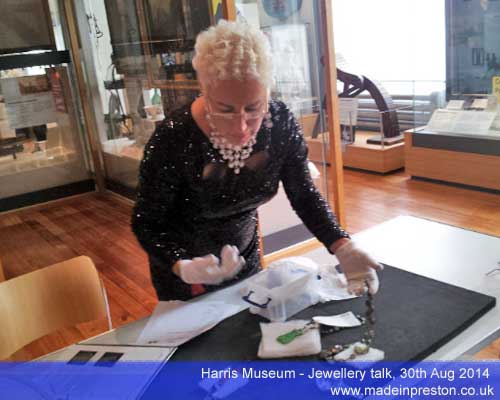 The Horrocks fashion talk highlighted the features of several dresses from the extensive collection.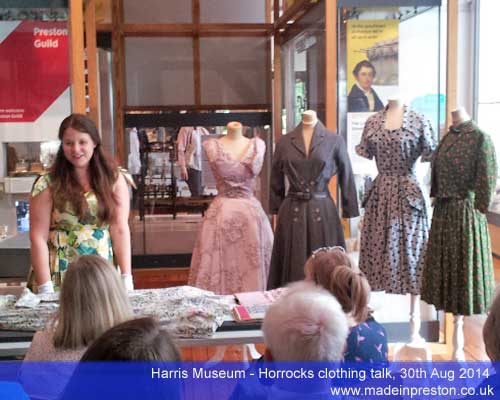 RebeccaUK is a Preston based business designing and manufacturing bespoke quality clothing for men and women.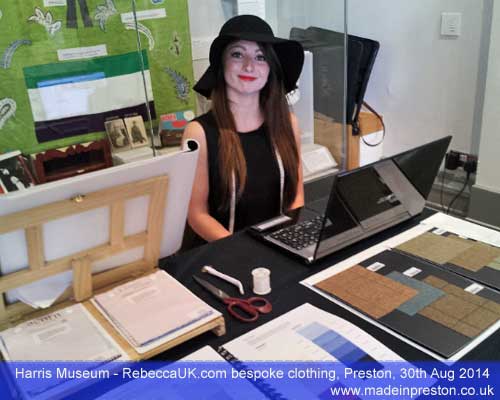 The Guild Time Capsule was filled in the presence of the Mayor of Preston, The Vicar of Preston, Chairman of the Guild Link Charity and the designer of the capsule Mark Newton of UCLan who said the rib design was based on the bus station, nice one..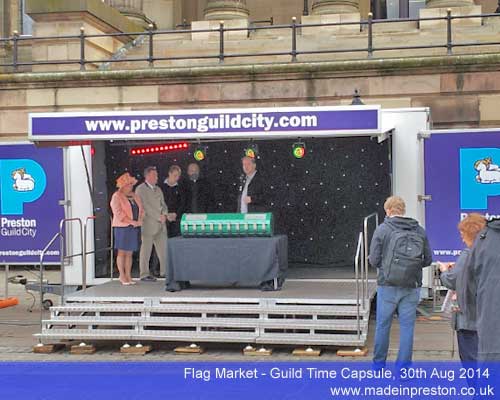 ---
Preston Council Parks department win gold at RHS Tatton 2014. Read more in parks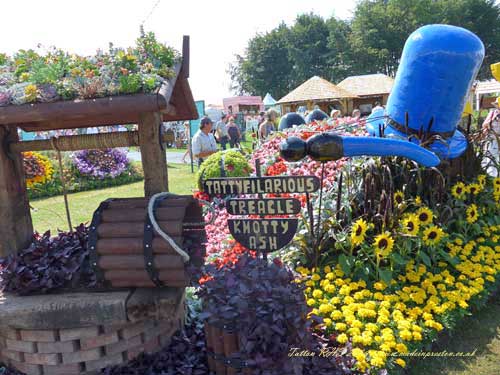 ---
Recently refound: 50 years ago PNE were Wembley bound and here's my FA Cup semi-final ticket. Thought lost but found inside a book in 2014.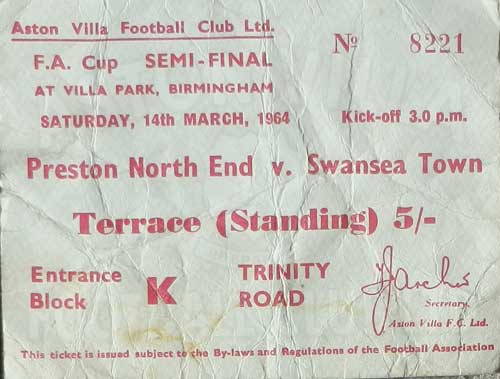 ---
Friday's photo: Preston Harris Museum Exhibition, 'Behind the Scenes' Promoting the Harris's wonderful textile collection as an international education resource. On until Spring 2015.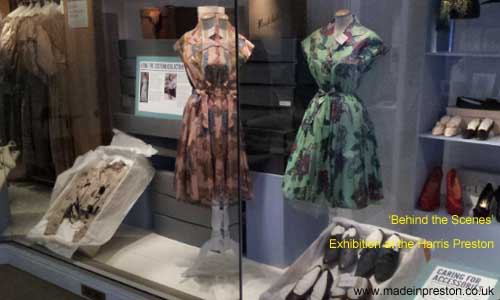 Preston Cenotaph cleaned and smartened for 2014 to mark the centenary of the start of the Great War, 4th August 1914.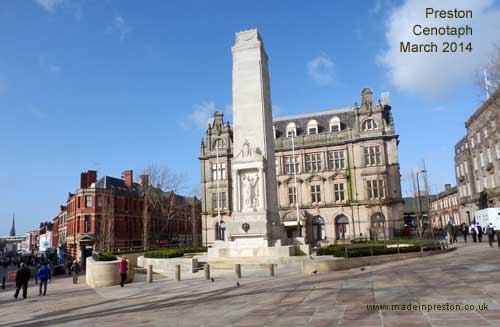 ---
Preston Bus Station. The brutalist building was Grade II listed in September 2013. Sun rising on a cold winters day in January 2013. Our car is parked in there.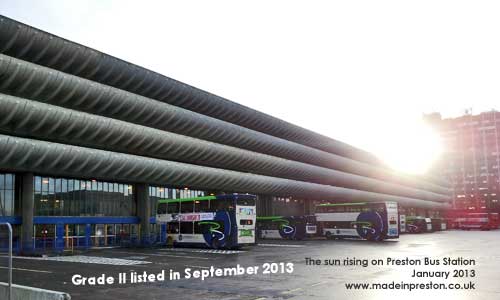 Things to do:
Ribble Steam Railway and Museum, Preston Docks
A great collection of locos, workshop and an operating service. Deltic prototype made in Preston and at the museum, courtesy of the NRM. Become a 'friend'.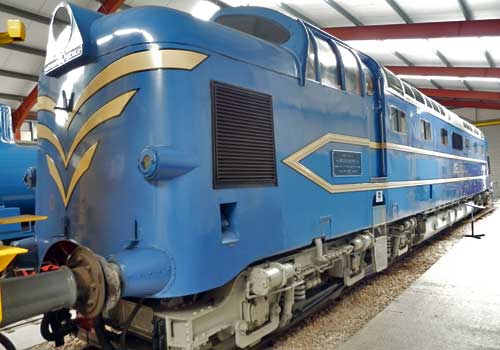 British Commercial Vehicle Museum, Leyland
A stunning collection of vehicles and a massive archive. Become a 'friend'.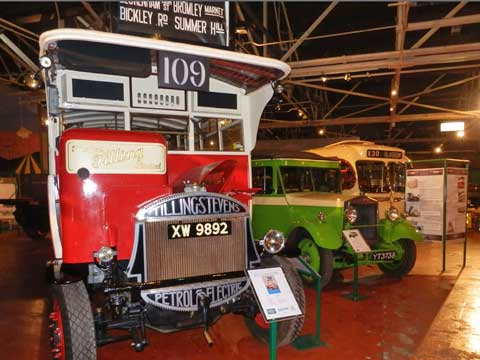 Harris Museum and Art Gallery, Preston centre
Preston's pride. A Grade 1 listed building housing excellent museum collections and art all displayed to a very high standard. Become a 'friend'.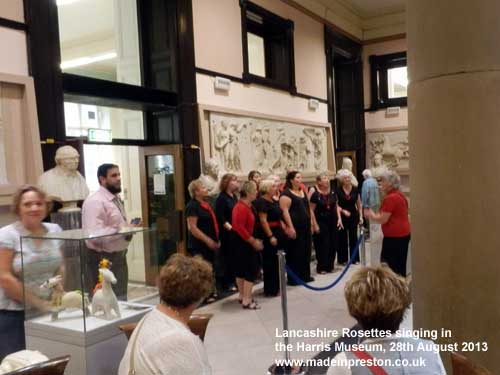 Museum of Lancashire, Stanley Street, Preston.
A good collection of pieces relating to the history of Lancashire: cotton, engineering, police, military, war, nature and entertainment. Next to Preston Prison and in the street named after the highest family of the north west.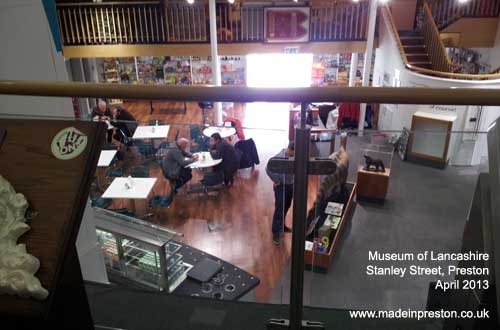 Lancashire Infantry Museum, Fulwood Barracks, Preston
An interesting display of military history and awards housed in the best preserved Chartist Barracks in Britain.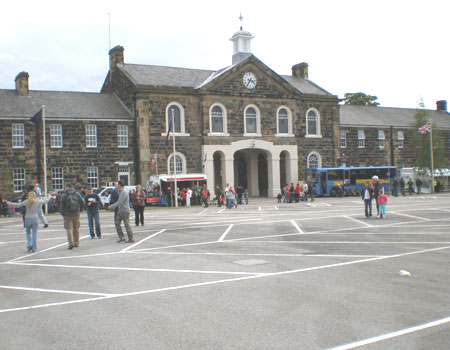 Join Preston Historical Society
Preston has an active and popular historical society who meet at the Minster. Find a link to their website on our links page. Excellent logo don't you think?

Alston Hall Courses
Friendly Alston Hall just east of Preston and set in the beautiful and tranquil Ribble Valley has a programme of courses throughout the year. Art, Craft, Music, Humanities and more for beginners to the accomplished. This shows their 2014 Spring / Summer catalogue, the autumn / winter one is around. Their website is on our links page or you can ring them on 01772 784661.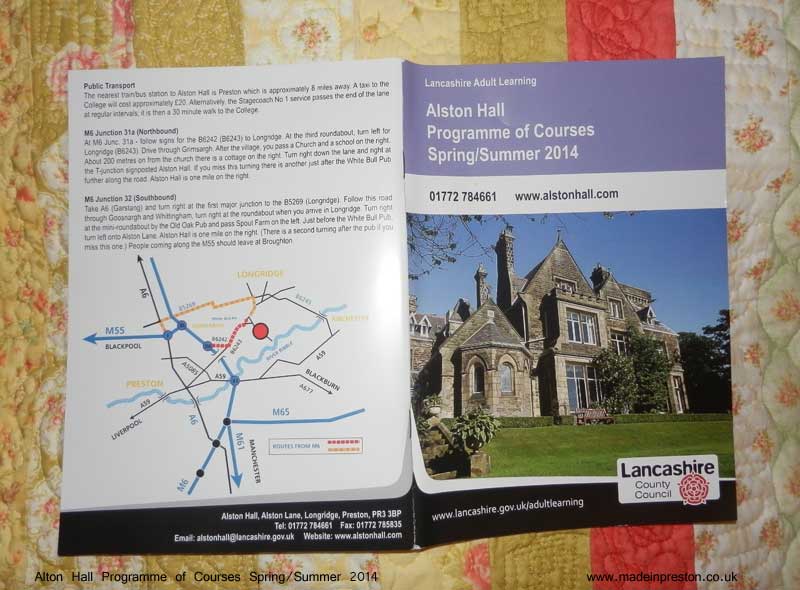 Ribble Vehicle Preservation Trust
Recently ran a free service between the 4 museums in Preston. Ribble Motors once the largest bus company in the northwest and based in Frenchwood, Preston. Although I discovered this bus isn't one of theirs, but it's a Ribble.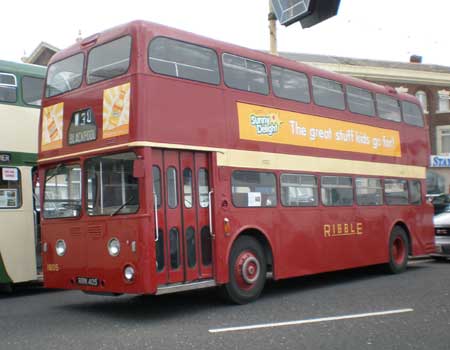 ---
Monthly PNE status since 2005, click here. Updated April 2014.
Deepdale, home of Preston North End. Nice ground next to a park, and close to Deepdale retail centre.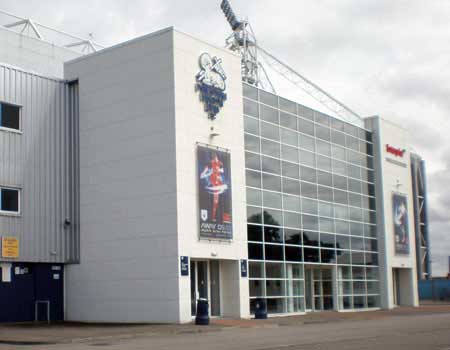 ---
Our Two Blogs
Made In Preston - the blog writing about Preston twice a month or so.
The North Westerly writing about anything once a month or so.