Made in Preston and the surrounding area
www.madeinpreston.co.uk - website established 2002
Read about Preston and its surrounding area on this website. Things to do, things to see and things to note:
Great things have been made in the area and some still are: most of the RAF's current fighter aircraft, such as Eurofighter Typhoon. Also at Leyland Trucks they still produce thousands of trucks.

More pages:
Preston, Lancashire
Granted city status in 2002.
At the heart of Preston is the Harris Museum, Art Gallery and Library, a Grade I listed building containing wonderful collections and the Discover Preston Gallery (note the Harris is closed for major refurbishment until 2025).
Photo of the Harris Museum, Art Gallery and Library while being refurbished June 2023.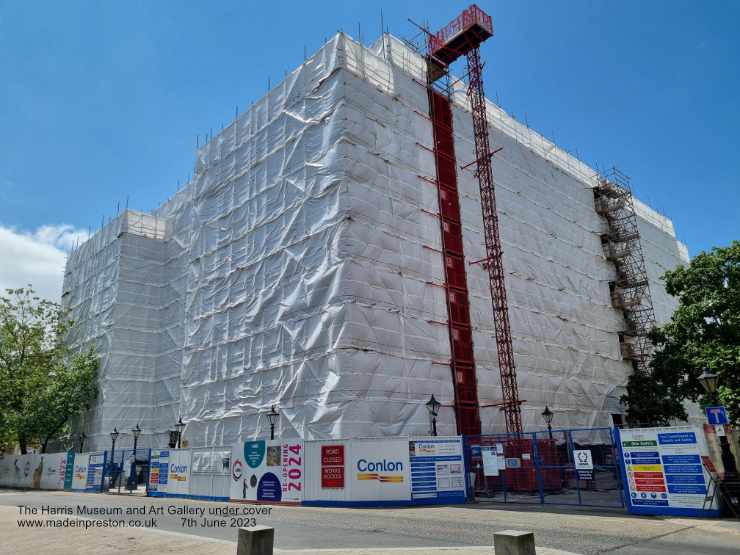 Preston is home to UCLan, The University of Central Lancashire, just north of the city centre. £200m has recently been spent to give it a world class improvement. A new engineering and innovation building and a new Student Centre have reshaped part of Preston in the Adelphi/Fylde Road area.
Preston contains the administrative centre of Lancashire at County Hall next to the railway station, and has done since County Councils were formed in 1888, although Lancashire included the great cities of Manchester and Liverpool, plus a good portion of the Lake District at that time.
Preston's fortune was built on the cotton industry which supported a large engineering and building industry. Diversity was achieved by developing a port, now partly a marina.
Current larger industry includes BAE SYSTEMS aircraft design, development, test, manufacturing and support centre at nearby Warton and one at Samlesbury. The Preston factories produced aircraft, trams and electric motors before closure.
There was a large Goss printing press factory near where UClan now sits.
In Leyland, 5 miles away, there is a large truck plant now Leyland Trucks part of DAF which is part of PACCAR, the US truck company. It was once a truck and bus plant that supported tyre and paint factories and gave its name to British Leyland, the consolidation of much of the UKs car industry.
At Walton Le Dale just over the southern boundary of Preston was Atkinson's Vehicles factory, lorries with the iconic 'A' badge on the radiator.
Plumb's soft furnishing's are a national company starting in the 1950's and expanding through mail order using a factory near Preston docks.
Preston is also the HQ of Booths Supermarkets a north of England group of high quality grocery stores with smart modern shops.
The surrounding area is rural, although Preston's built area is expanding rapidly north into those green areas, called Preston Rural. It now supports largely dairy farming and several Lancashire Cheese producers.
Preston's businesses are celebrated every 20 years by the famous Preston Guild celebration, which has taken place since 1179 with the famous Guild Charter.
The major sports club is Preston North End Football Club, a founder member of the Football League. The headquarters of the English Football League are in Preston.
Preston has a fortunate position with attractive countryside close by and the seaside to the west. It's also on the main road and rail routes to Scotland, The Lake District, Manchester, Liverpool, Birmingham and London as well as direct trains to Leeds, York and Blackpool.
In 2023 the blogs below are being updated more regularly
..............
Made in Preston - The Blog - occasional ramblings about Preston
The North Westerly Blog - infrequent ramblings about things in the North West and places.
Heritage Open Days in Preston 9th to 18th Sept 2023
The Heritage Open Days 2023 Preston website link is:
https://www.heritageopendays.org.uk/
Ashton Freehold - celebrating a Victorian suburb
Broughton in Amounderness Heritage Centre and Church Cottage Museum
Creativity Unwrapped at Lancashire Archives
Haslam Park and Local Nature Reserve
Lancashire Conservation Studios & Collections
Open Day @ No. 3 Syke Street
Preston Cleansing Department
Preston Markets Heritage Walk
Preston Masonic Hall - Not so secret!
Preston Town Hall
St Michael and All Angels, Ashton on Ribble
The Lancaster Canal Tram Road and old Tram Bridge
Fishergate, Preston's main shopping street March 2023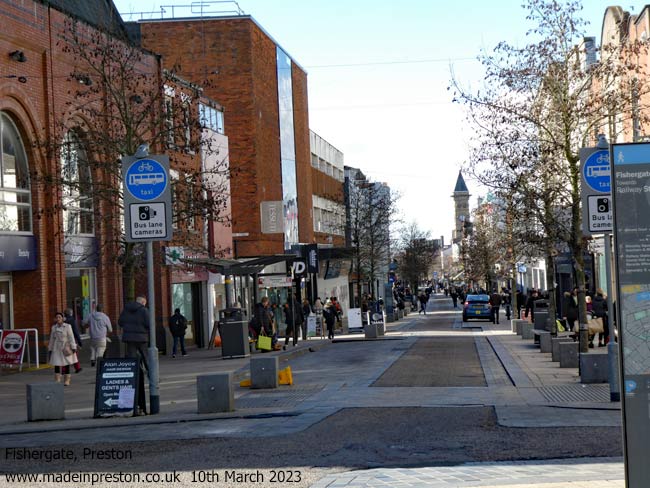 In July 2023 a new mural is creating a lot of local interest on a wall facing the entrance to St John's Minster, Preston. Titled 'Mother' it's painted on the wall of Hogarth's pub by Shawn Sharpe, a Preston artist.. It's certainly striking with quite an emotional tug showing the power of art propaganda. It's based on the crest of Preston which features the lamb of St Wilfred and the letters PP. Thanks to the artist and Amber Taverns who own Hogarths which looks a nice pub on its website.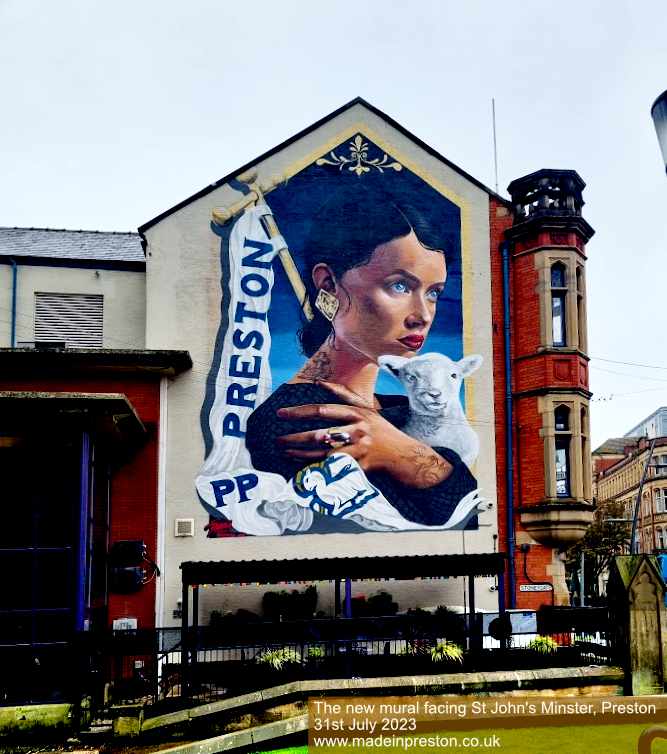 The latest and very popular feature in Preston. Wallace and Gromit. A celebration of Nick Park, born in Preston.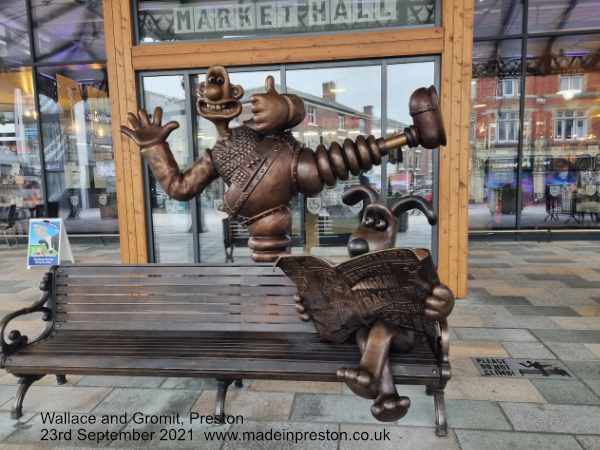 The Harris
The Harris Museum, Art Gallery & Library is a Grade 1 listed building containing magnificent collections.
Unfortunately closed for refurbishment until 2024
Visit our reports on our Harris webpage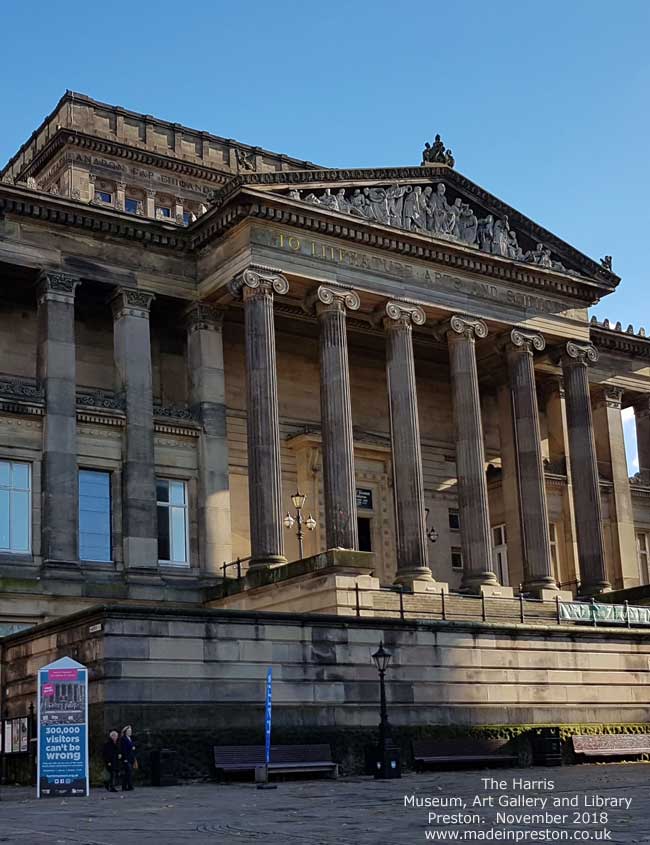 New Jigsaw of the Harris in the Library Shop
It's a novel jigsaw with a 360degree view of the centre of the museum, with well designed non-obvious pieces.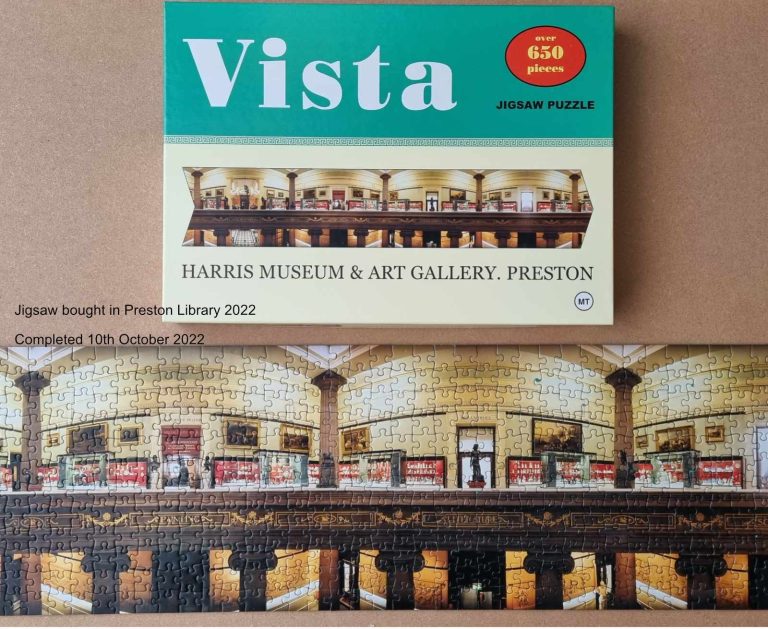 Preston's Main Scenes
Crystal House reclad - photo January 2023
Crystal House is located on the site of a former classic building, the expensively built 1867 Gothic style Town Hall that burnt down in 1947. In 1962 after 15yrs of being a ruin, a high rise office block with shops appeared a modern solution but it was never popular, except for Pizzaland and Brady's Record Store, and became an eyesore. It was reclad in the late 2010s and looked surprisingly smart. Until the Grenfell tragedy meant its cladding had to be removed and this is how it now looks. Not as good as the older cladding but if those empty shops ever get filled with anything interesting it could look quite smart.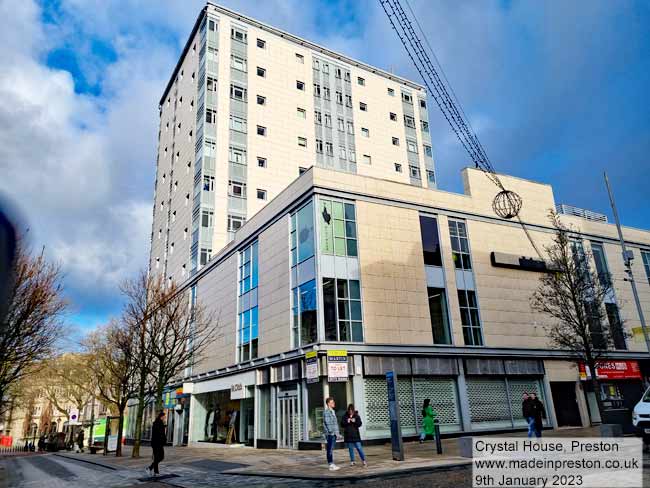 Fishergate August 2018
Fishergate looking well with its trees and the restricted vehicle access. Preston's main shopping street with the Fishergate Centre and station at one end and the ornate Miller Arcade and the excellent Harris at the other. The charms of Georgian Winckley Street and Square to the south and St George's Centre to the north.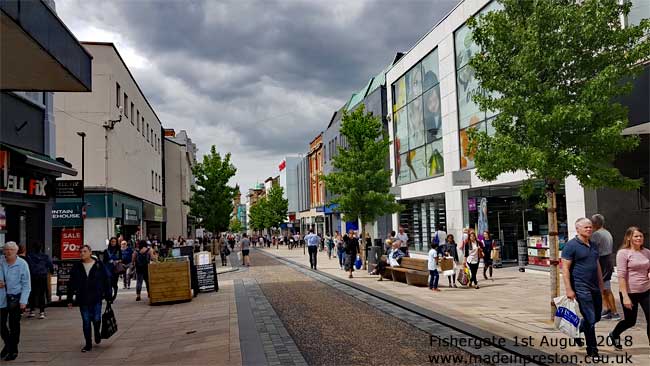 Friargate May 2019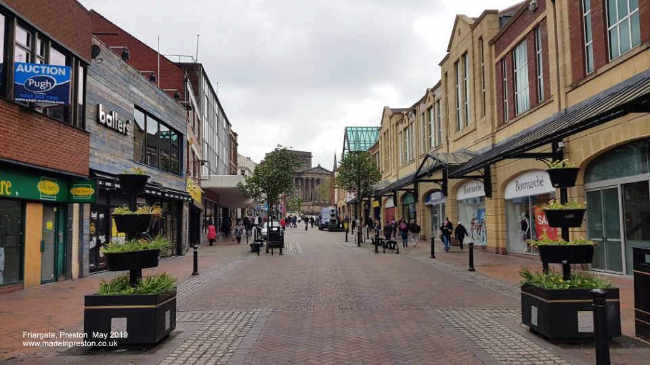 In 2021 here is the new Student Centre at UCLan: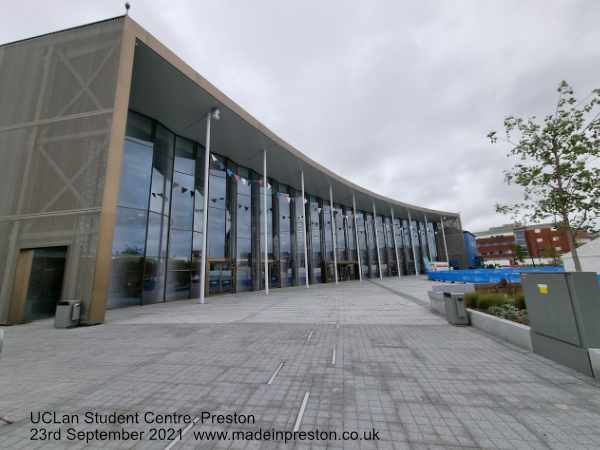 The new Engineering Block at UCLan, Preston, May 2019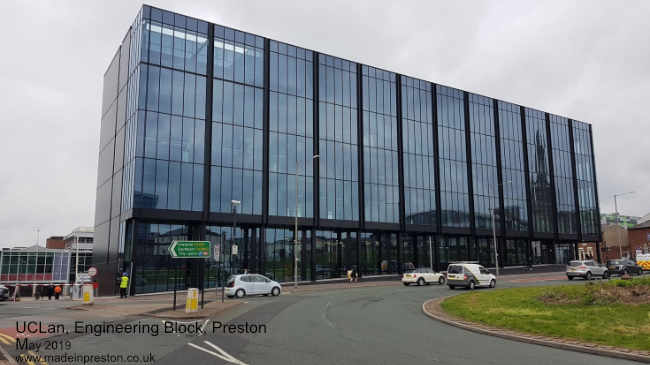 Preston Bus Station from the west, non-bus side, December 2021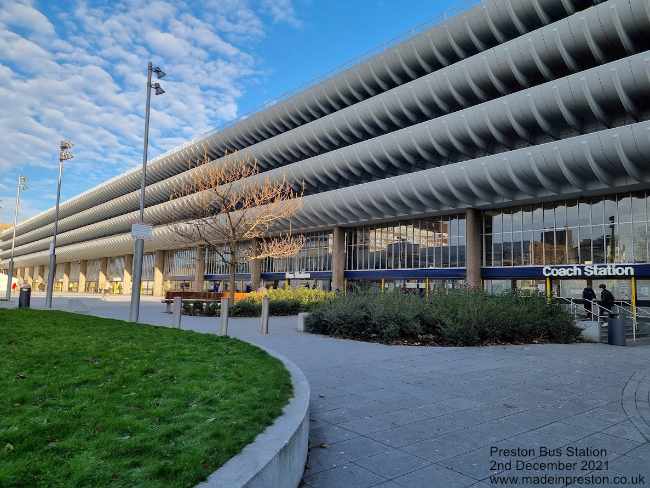 Avenham Park riverside walk September 2018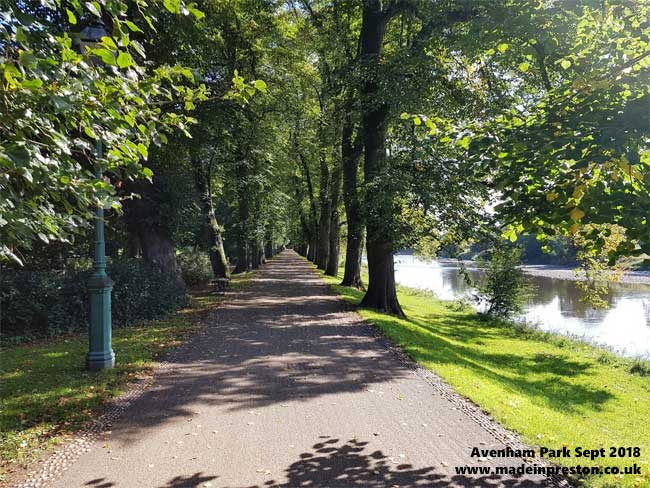 Avenham Park in Autumn, November 2022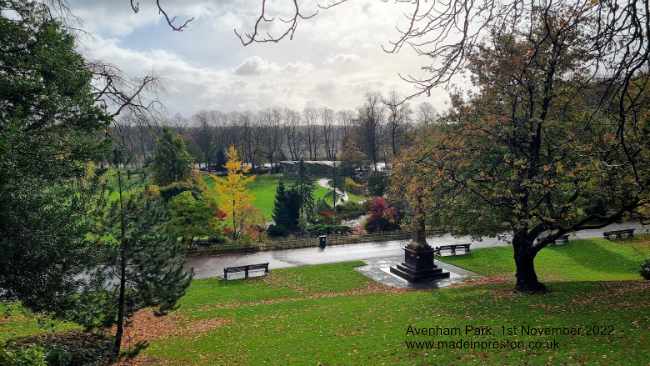 Miller Park near Preston railway station November 2022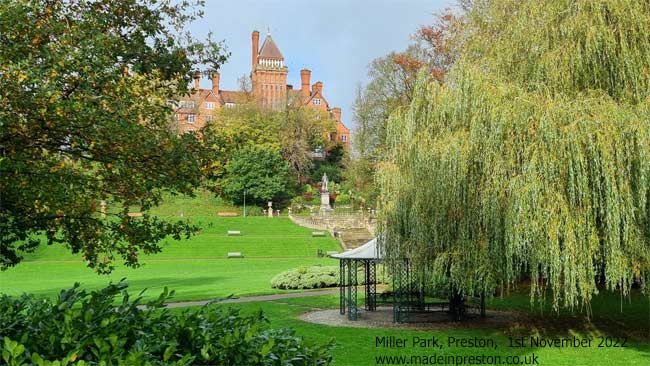 Preston skyline from the far end of the docks, 10th May 2022: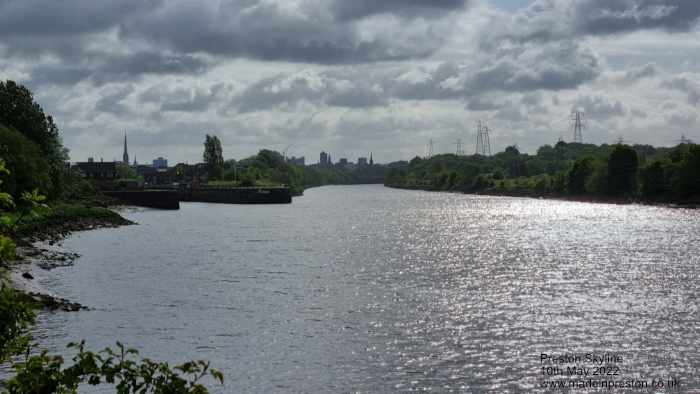 The Ribble Steam Railway operating Furness Loco 20 which has been serviced at the RSR. Photo dated 26th March 2022: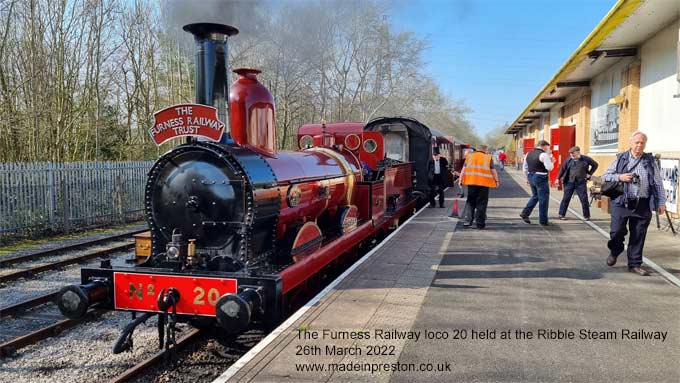 Crystal House cladding being replaced following the Grenfell tragedy. Amazing that the building was looking better than it had ever done in its 50year history.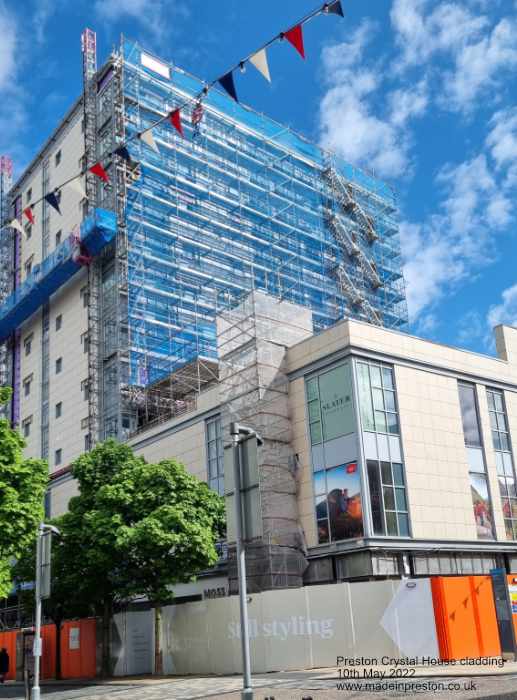 Monthly PNE status since 2005, click here
History Books about Preston
The number of history and heritage books about Preston has increased faster in recent years.
Read our page of Preston Heritage Books click here
---
www.madeinpreston.co.uk - website since 2002.
Disclaimer and Acknowledgements
We also have Facebook, Twitter and Flickr accounts. . We're not to be associated with anything else calling itself Made in Preston. This is 2002 vintage.
If only there was time to do all planned for this website. But we plod on multi-tasking with other websites and social media by the same author. Hope you like it.