First there was Tornado, then there was Typhoon and what next?   The concept for the anticipated next aircraft project at BAE Systems in Lancashire and the Royal Air Force has been announced as the Tempest, photographed below.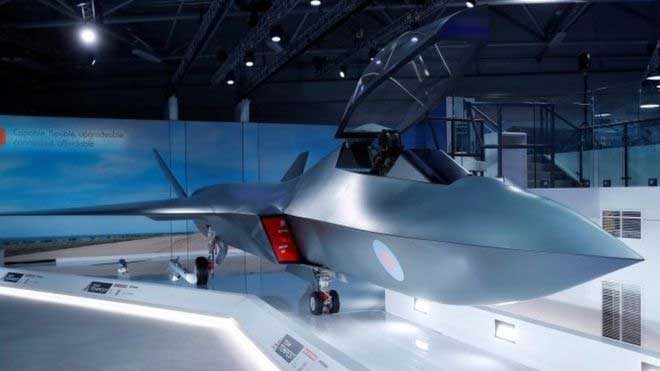 A concept design for a two engine fighter bomber with a capability to fly unmanned.  The UK government has allocated £200m a year for 10 years and there is a partnership with BAE Systems, Rolls Royce engines, MBDA missiles and Leonardo of Italy plus of course UK MOD and RAF.
As usual the partnerships for the next European Combat Aircraft are being debated with rival offerings from the big players.   Earlier this year Airbus and Dassault of France announced they would partner for the next Future Combat Aircraft project excluding the UK.   The UK continued with its discussions with Japan, Sweden and Turkey.   More recently, in fact this week, the head of Airbus proposed that BAE Systems merge its military aircraft business with Airbus and there is talk from France and Germany for the UK to join their project to strengthen European Security.  Slightly ironic considering the UK is being excluded from the European GPS system due to security.  The difference between politicians and industry perhaps.
The RAF is looking to be flying the Tempest by 2035 along with the Typhoon and Lightning II (F35).   As future partners are unknown it can't be said what the future workload will be locally.  A partnership including France is likely to result in a debate about who leads and who gets which juicier parts of work.  Other partners are likely to allow the UK to lead the project which usually means designing and building the forward end and cockpit.  In any event it's likely that Final Assembly which involves test flying will be in the UK, hopefully at Warton, for RAF aircraft.
At the Farnborough Air Show the UK also announced that Typhoon will be used as the  bridge for technology on the Future Combat Aircraft.   Several upgrades will be introduced later this year and future technology used to keep the Typhoon in service for another 30 years.
Work in Lancashire continues on Typhoon manufacture and development, F35 rear fuselage work is ramping up.  Other concept projects like Taranis and now Tempest will hopefully lead to another 30 years of work taking the local sites to over 100 years old.