If you know the Harris, is an icon 'Hannibal's Sister' or 'Pauline in the Yellow Dress'?  Your choice, but on 28th April we took in a talk by two Sisters from the St Elisabeth Convent in Minsk about creating religious icons.   In the afternoon you could make your own icon but that was booked up.  The Harris has a lot on at the moment and we followed up by viewing the special exhibitions; Lubaina Himid: Hard Times,  The Courtauld Connection, Before Sound and The Gentleman's Wardrobe.  The strange thing about the Harris is there is something new everytime you go, although the staff claim it was always there, is it an in joke?
Starting with the icon talk we learnt that creating icons is an exacting task taking several weeks, starting with the wooden base and building it up.  Especially a large one, perhaps with many figures and painted for a special family event. As well as the icon studio the Convent works to help the destitute.  There was a display of  fine icons and some made for a cheaper budget.  It was fascinating to listen to and meet the Sisters from Minsk, Belarus.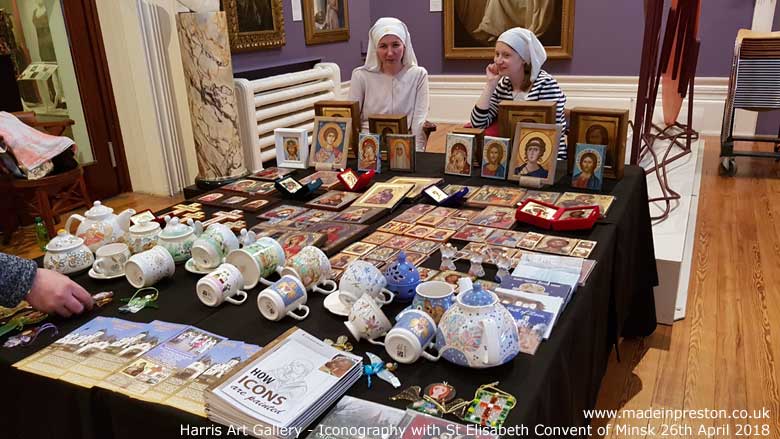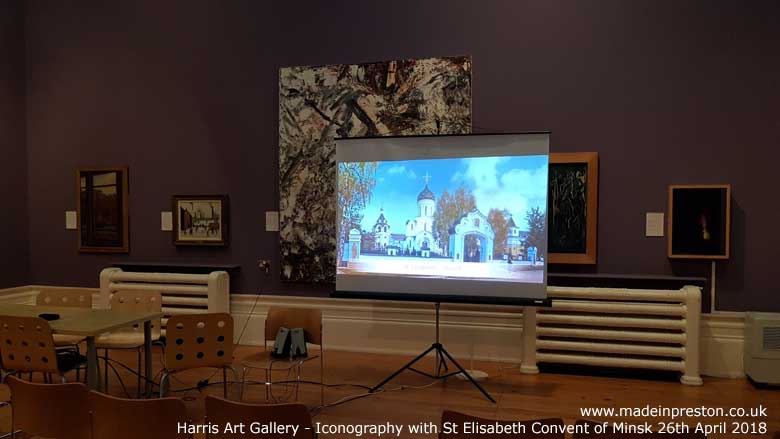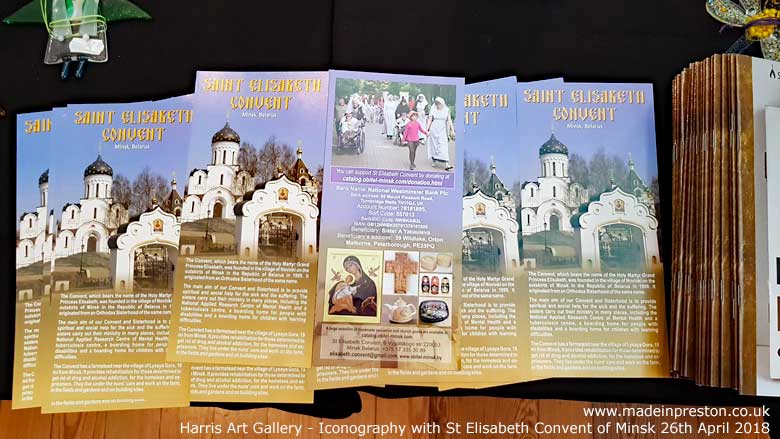 The Lubaina Himid Exhibition Hard Times contains several works including the Turner Prize winning work.  Also on the stairs in the gallery are 2 more works and another in the Fine Art Gallery as part of the Harris collection.   The adjacent rooms have items by other artists that are part of the exhibition.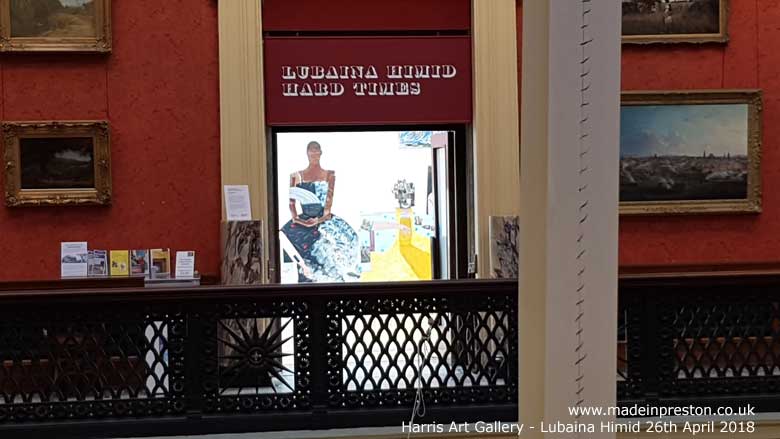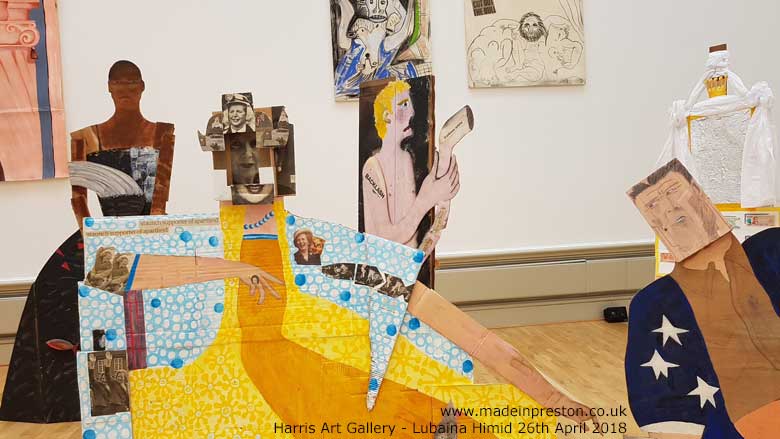 Preston once had a large rayon producing factory owned by Courtauld's. A display in the Fine Art Gallery  shows the history of the factory and the lives of the workers. This is set around a painting by Eugene Boudin on loan from the Courtauld Gallery in London. The painting was selected by former employees.  See our separate write up.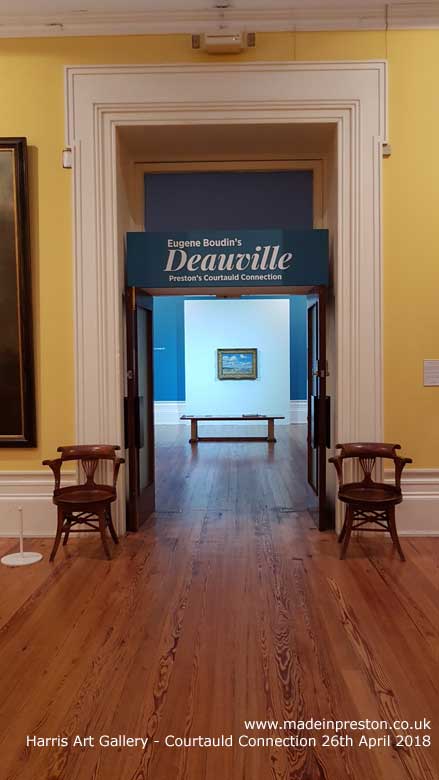 The Gentleman's Wardrobe is a work around the story of male carers who feel they were let down by the system.  Their voices can be heard inside the wardrobe while you can sit inside with the doors closed for the full experience.
In front of the Wardrobe is The Cart Room, a collection of carts with paintings of fish and insects.  Quite novel and rural feeling.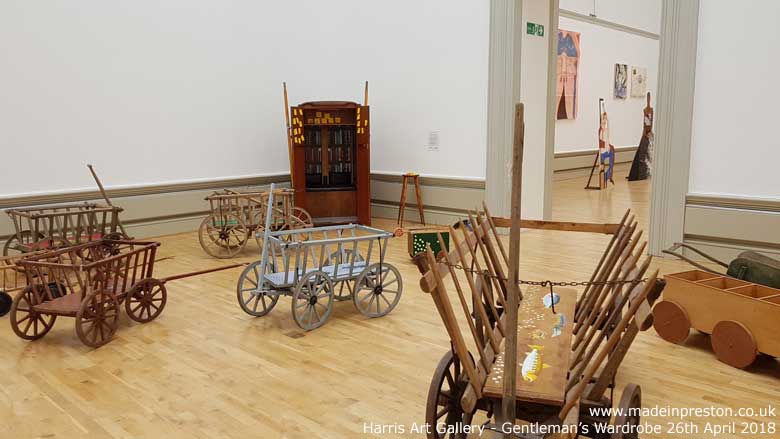 Before Sound is an elegantly hung work showing a huge Musical Stave with the treble clef at the bottom.  Such a note could be almost in the visible spectrum, although probably no-where near.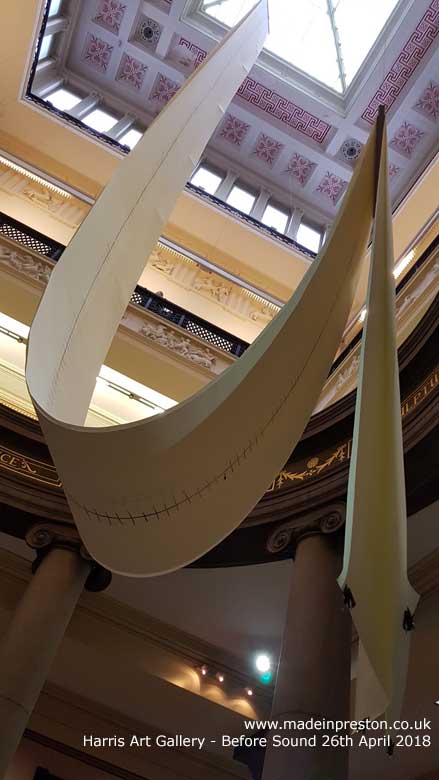 Preston Street Style is a longer term exhibition.  Preston is my Paris is a clever take of an advert and was used in the 2012 Preston Guild.  An exhibition of street clothing through time.   I can't help but admire who-ever thought of Preston is my Paris, it's one of those phrases that comes to mind in certain places in Preston,  ironic perhaps.  In Certain Places is familiar too.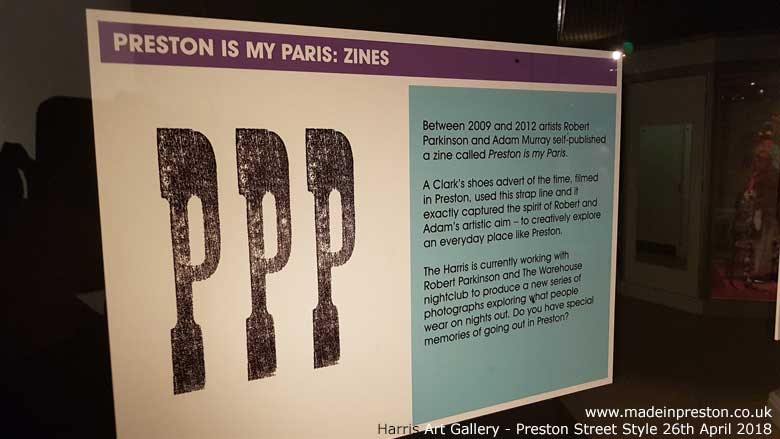 Yes, a good day at the Harris.