After announcing a month ago that Ikea would be the key store at the new retail area at Cuerden, 3 miles south of Preston, it's been announced they're pulling out.   Ikea claim costs and delays no longer make the store viable.   In its place Lindsay Hoyle MP for Chorley has suggested a new Central Lancashire Hospital is put on the site.
Image of the area at the end of the M65, from South Ribble Council website: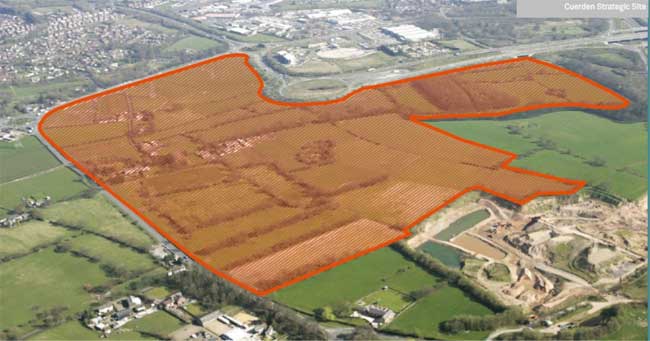 Discussion has been underway about combining Preston and Chorley Hospitals at a new site.  Both hospitals are on constrained sites and Chorley is smarting at not being big enough for 24hr A&E.   This proposal appears to make a lot of sense.  The site being on the edge of 3 motorways.   Its downside could be congestion at such a major crossroads and whether it will attract other new building around its edges creating constraints on expansion once again.   Also comparing the current Preston site with this one, it isn't that much bigger unless additional land is taken. Is this green belt?
Car Parking is a key factor for staff and patients at hospitals and one located away from housing will need a lot of transport.  Having been to Preston hospital a few times it's obvious that Preston is very poor for parking.  Preston also has a huge expanse of single storey building which appears to be a big waste of space.  Updating an existing site can be very disruptive and that area is congested enough.
Also there are plans to combine pathology at Preston, Chorley and Lancaster at a site near Lancaster University.  This will need samples carried back and forth throughout the day.
Another factor is whether more smaller hospitals should be built.  There is one at Clifton near Lytham for Dermatology and that has a very relaxed atmosphere.  Plus the talk of care and convelescent sites to take the strain off big hospitals.
Overall it sounds a good scheme.  There is talk of prefabricated fast build hospitals, could this be one?