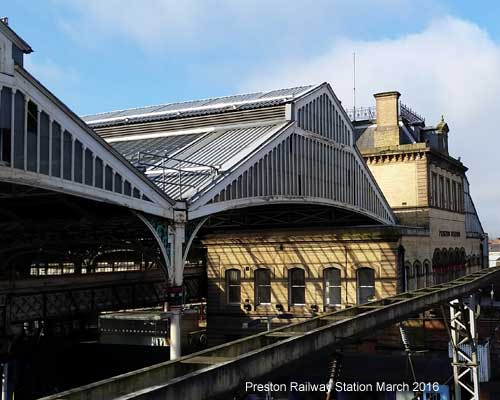 Trams, trains, roads are in the news.
Trampower, the company who have been promoting a light rail system in Preston, are pushing to be allowed to run a one mile test track in Deepdale. This will use the old Longridge line.  PWA Planning are providing consultancy and Pre-Metro Solutions will operate the system.  Pre-Metro Solutions operate the Stourbridge Light Railway which links Stourbridge town centre with the national rail system at Stourbridge Junction every 10 minutes on a one mile track using bus type diesel railcars.  There are big ambitions for the tram route. Preston has quite a bit of old rail track hardly used and it could save digging up the roads.  Although Manchester is increasingly ambitious with its light rail and the city centre roads seem to have been semi-closed for years with expansion after expansion.  Blackpool is to expand its tram route to North Station which will dig up a stretch of road in the town centre, daring stuff.
Electrification of the line to Manchester is now restarted, after a new contractor was selected, with overhead wire supports being installed near Bolton.  In April the Northern Rail franchise was taken over by Arriva Rail North and the Trans-Pennine Express franchise remained with First.  A new livery has been applied to Trans-Pennine trains and orders have been placed for new trains that will see the end of the old Northern Pacer bus-style trains.
Preston station is to have improvements as part of Virgin Rail's £20m station improvement plan.  The Preston element includes changes to the Ticket Area and new Ticket Vending Machines and a new entrance at Butler Street by platform 7 to improve customer flow.  Retail opportunities are to be offered.
On the roads discussions are advanced on the Preston Western Distributor linking the M55 and Riversway and in  Broughton the by-pass is being built.  The completion of the dual carriageway from the M65 to the A59 east and west of Penwortham will make the missing link more obvious – the western Ribble crossing.   Regular closures on the M6 due to road accidents is showing an increasing need for a relief road.   Although it could be argued that the better roads become the further people will commute.  Also the government insistence on building new homes regardless of apparent job opportunities is also adding to transport needs.
As this is written the M6 has been closed in both directions at Junction 31, which appears to have been started by a diesel spillage, and the West Coast Main Line is closed between Preston and Carlisle until midday.  How much time for delays do you add in to your journeys?